---
The unbelievably easy way to print and encode plastic ID cards.
Securing your organization just got easier.
There's no easier way to increase your employees' security and decrease your organization's vulnerability than by issuing photo ID cards. And now there's no easier, more dependable way to issue photo ID cards than with the new DTC300 Direct-to-Card Printer/Encoder from Fargo. Everything about the Fargo DTC300 is specifically designed to make issuing IDs and securing your organization go smoothly. It's simple to operate, and there's virtually no learning curve or maintenance. Plus, you can effortlessly increase productivity by inte­grating the DTC300 with your existing human resources, time and attendance, visitor management or access control systems. Add in our free card identity software and 2-year warranty, and it turns out the DTC300 is easily the best value for your budget, as well.
Never deal with ribbons or card cleaning hassles again.
Anyone who's ever operated a card printer before knows the drill: ribbons are diffi­cult to load, separate card-cleaning mechanisms are a pain, and those blinking indicator lights are more confusing than helpful. The DTC300's next-generation "one-way" design eliminates these problems once and for all. It's the first printer to fea­ture Fargo's SmartLoad™ Ribbon Cartridge, our all-in-one print ribbon/card cleaning system. This handy, disposable cartridge installs in one unbelievably easy Troubleshooting is unbelievably easy. step — just slide it into place and you're done.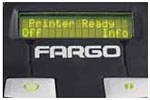 Fargo's exclusive SmartScreen LCD Control Panel replaces confusing indica-of all,
Never again wonder what your printer is telling you.
Another next-generation feature of the DTC300 is Fargo's exclusive SmartScreen™ LCD Control Panel. Unlike other card printers that communicate with confusing, blinking lights (or worse, no indicator lights at all), the DTC300 features a clear display of easy-to-understand prompts and commands. You'll constantly know the status of your printing and encoding.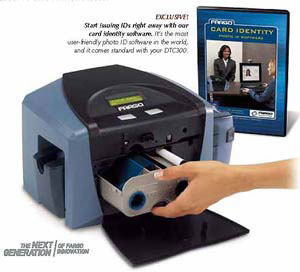 Specification Overview (Complete DTC300 specification available at http://www.dtc300@fargo.com)
| | |
| --- | --- |
| Print Method | DTC300: Dye-Sublimation/Resin Thermal Transfer. DTC300M: Resin Thermal Transfer |
| Resolution | 300 dpi (11:8 dots/min) |
| Colour | DTC300: Up to 16.7 million / 256 shades per pixel. DTC300M: Monochrome |
| Print Speed | Batch Mode: A. 7 seconds per card /514 cards per hour (K)* B. 12 seconds per card /300 cards per hour (KO)* C. 27 seconds per card /133 cards per hour (YMCKO)* and D. 35 seconds per card /102 cards per hour (YMCKOK)* |
| Print Applications | Single-and dual-sided printing for text, logos, bar codes, signatures and photos in full colour (DTC300) ore one colour (DTC300M) |
| Input hopper card capacity | 100 cards (0.03"/0.772mm) |
| Output hoppers card capacity | 300 cards (0.03"/0.772mm) |
| Print Area | CR-80 edge-to-edge (3.3"L X 2.11"W/85.5mmL X53.5mmW) |
| Options | Magnetic card encoding module-field-upgradeable* Dual-sided printing module-factory order only (Available soon)* E-card Encoding module-factory-upgradeable (Available soon)* Printer cleaning kit. Ethernet networking option (Available soon)* 100 card output hopper (Available soon) |
*Indicates the ribbon type and the number of ribbon panels printed where Y=Yellow, M=Magenta, C=Cyan, K=Resin Black, O=Overlay
The Fargo DTC300 Card Printer/Encoder has been tested to ensure that it meets Microsoft® standards for Windows® compatibility.
Microsoft, Windows, and the Windows logo are trademarks, or registered trademarks of Microsoft Corporation in the United States and /
or other countries.
EXCLUSIVE!
Never again wonder what your printer is telling you, thanks to our SmartScreen LCD Control Panel. The DTC300 is the only card printer in its class that replaces confusing indicator lights with clear, easy-to-understand prompts and commands. Relax with our two-year warranty. Peace-of-mind comes standard on every DTC300 we make.
EXCLUSIVE
Maintain your print quality while protecting your printer head with our convenient SmartClean Roller. Intelligently integrated into our all-in-one SmartLoad Ribbon cartridge, the SmartClean Roller automatically removes potentially damaging dust and debris from each card before it is printed.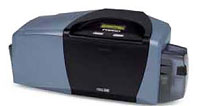 Encoding? Printing on both sides? That's unbelievably easy, too.
Fargo's optional e-card modules make adding functionality to your cards hassle-free. You can greatly increase your organization's efficiency and security by integrating magnetic stripe, proximity card or smart card functionality with your existing systems. Need both sides of your card printed? Simply order your DTC300 with a dual-sided printing module. You'll save time by printing both sides in a single pass.
Best of all, it's easy to get started.
No one ever said making your organiza­tion more secure would be easy — until now!
Contact Fargo integrator about the DTC300 today.
To download Systems Catalogue and specification please click here
---
@1996-2014 All rights reserved
Securitex Electronic Systems Engineering
Block 9010 Tampines St 93 #04-145 Singapore 528844 Tel: +65 67852171 Fax: +65 65850107