The one stop electrical locking system for HAZARDOUS ZONE doors (CLASS 1 DIV 2)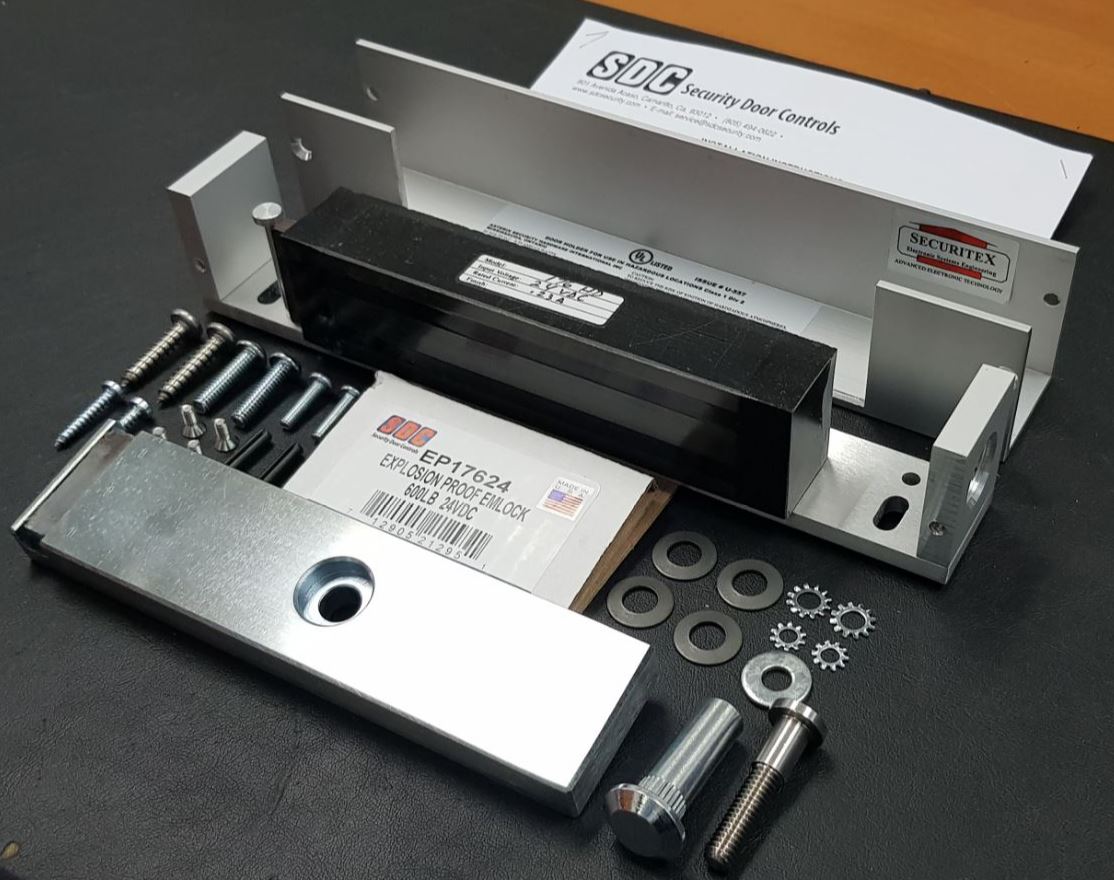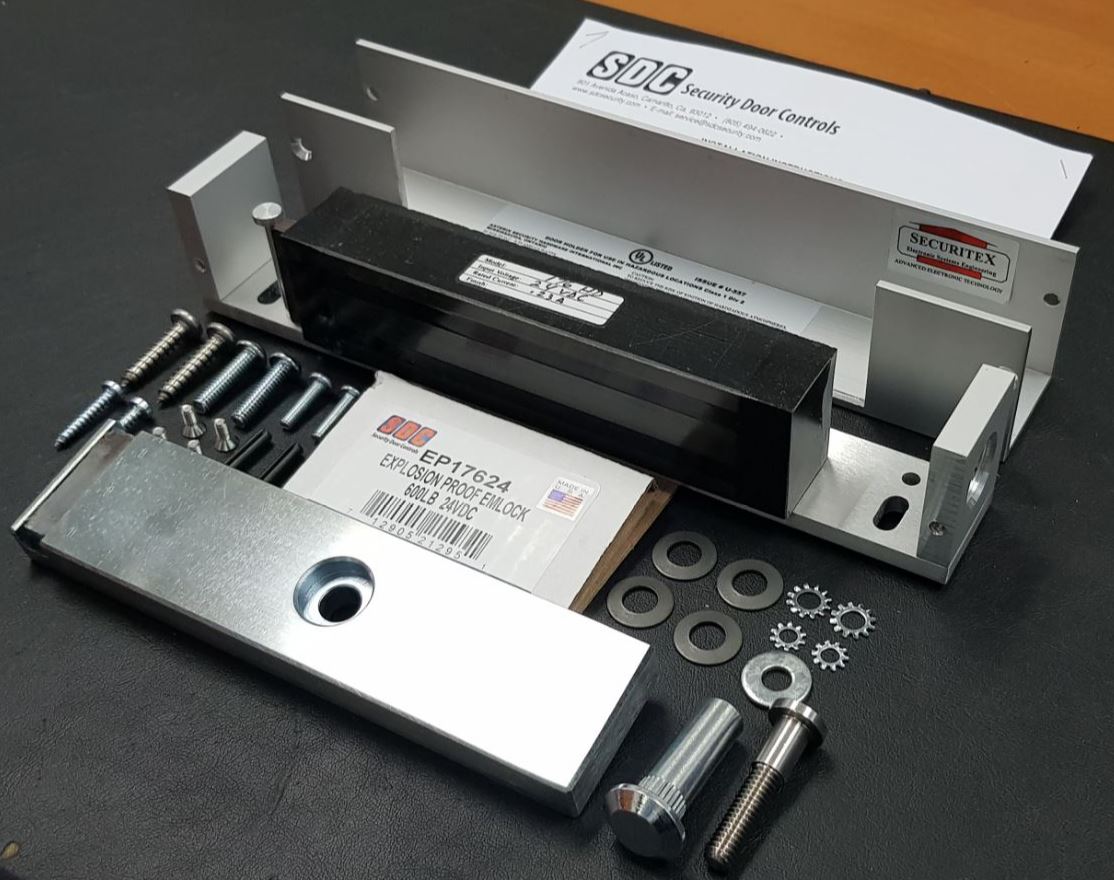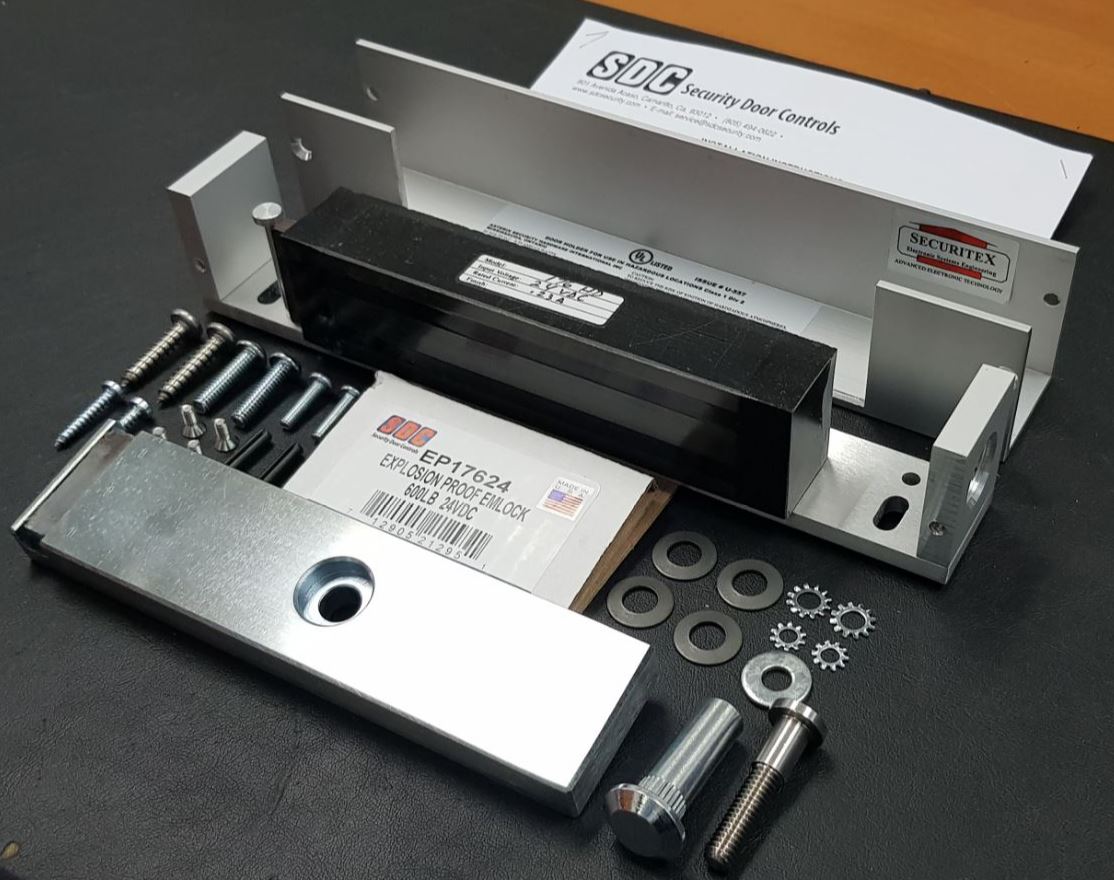 EP17624 EM-LOCK SERIES
UL Listed (issue # U-557)
---
EXPLOSION PROOF MAGNETIC LOCK
S

pecifically designed for applications where flammable vapors are cause for concern, like clean room, chemical plant, or refinery environments by eliminating the sparks or arc in the magnetic lock.
EP17624
Push-side Explosion Proof EMLock® with conduit on side-block
EP17624TJ Pull-side Explosion Proof EMLock® with conduit on top panel includes Top Jamb mounting bracket
FEATURE
Explosion Proof Epoxy Sealed to eliminate sparks
No moving parts, virtually maintenance free
Corrosion Proof
Door Status Sensor
628 Clear Anodized Aluminum housing
Classified for Class 1, Division 2 Hazardous Locations
SPECIALLY DESIGN AND BUILT FOR USE IN THE FOLLOWING ATMOSPHERES:
This unit is intended to be used in the following atmospheres: Acetone, Ammonium Hydroxide, ATSM fuel C, Benzene, Methyl-Ethyl Ketone, Diethyl-Ether, 2-Nitropropane, Ethyl-Acetate, Furfural, Normal Hexane, Methyl Alcohol.

OPERATING TEMPERATURE
Operating temperature for the magnetic lock will not exceed 185° F (85° C). Maximum ambient temperature is not to exceed 104°F (40° C). For supply connections, use a suitable wire with a minimum insulation temperature rating of 167° F (75° C).
POWER SUPPLY CODE REQUIREMENT
This unit must be connected to a NEC (National Electric Code, NFPA 70) Class 2 Supply Circuit rated for 24 VDC with a minimum current output of 0.5 amperes and output power of 12 watts. A UL Listed SDC 600 Series Power Controller is recommended.
INSTALLATION


FOR MORE DETAIL ON THE EP17624 DOWNLOAD THE DOCUMENTATION HERE.