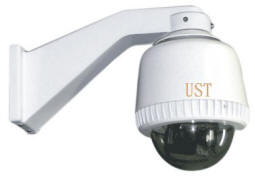 HSD-6LW18 / HSD-6LW22 / HSD-6LW27

Indoor / Outdoor (P-T-Z High Speed Dome)

Built-in 18X optical zoom Color Camera:
·Total Zoom Ratio:216X ( 18X Optical Zoom / 12X Digital Zoom )
·Image Sensor: High Sensitive 1/4" Sony Exview HAD CCD
·Support 0.1 I x (Day & Night) Function.
Features:
New features for the new intelligence speed dome camera
The configuration of new speed dome camera
·it scan and operate very accurately.
·the dip switch is suitable for the user.
Main feature:
·Inner with high resolution ratio and high sensitivity colored camera.
·The function of camera can be set by the menu.
·OSD show
·the speed of lens, ZOOM and FOCUS can be set.
·auto overturn
·preset scan
·auto scan
·the character of preset can be edit
·It has 128 presets.
·It can tour between two presets.
·Auto flip
·It can show the working state.
·Making
·The sensitivity of Color camera : 0.7lux
·the address can be set by long distance.
·the speed of scan is adjustable.
·Tour speed ( 5/S , 60/S , 120/S )
·The speed can be increased from 0.3/S to 120/S by manually.
·proportion
·Auto detect protocol (Pelco P or D)

Application:
·Bank ·Schools ·Highways ·Casinos ·Stations ·Supermarkets ·Offices ·Parking lots
·Libraries ·Residences
Specifications

Model

Image Sensor
High Sensitive 1/4" Sony Exview HAD CCD
Resolution
480 TV Lines
input voltage
DC12V , 1.5A ( ±20% ) (linear power )
Power
<=24W

pan speed
0.3°-240°/s
tilt speed
0.3°-120°/s
tilt scope by manually
+2~92°
pan scan scope
360°run
the frequency of pan scan
15.625KHZ
the frequency of tilt scan
50Hz
Video output
1.0V[p-p] (75O/BNC, composite)
minimum illumination
0.06 lx (black and white) or 1 lx (color) (increase twice on the sensitivity)
0.1 I x (Day & Night) Function.
Preset
128 presets
time for finding preset
<2S
preset speed
240°/S
Aperture
auto ( open/close ) /manual
the time for focus
<1.65S
scan precision
0.225±0.03
video system
PAL / NTSC
S/N ratio
>48dB
Protocol
Auto detect (Pelco P or D), 100% compatible
communication
Standard RS-485
baud rate
2400 / 4800 / 9600 available
temperature
Suitable temperature (Indoor): -20°C~50°C
Suitable temperature (Outdoor): -45°C~50°C
safe class
IP66DS
Dimension
Diameter 6 inch
Weight
Approximation 5Kg
Dimension

Back to Securitex
@ 1996-2011 All Right Reserved
Securitex Electronic Systems Engineering
Block 9010 Tampines St 93 #04-145 Tampines Industrial Park A Singapore 528844 T: +65-67852171 F: +65-65850107 sales@securitex.com.sg
Returned to http://www.securitex.com.sg