Overview
Work site both ways approaching warning alert system is developed to warn the construction site machine operator and also the construction site workers that there are danger ahead within the preset distance detection range. This system is designed and built to protect worker avoiding impact by working machinery or when approaching dangerous place with chemical or gas (not for use in intrinsically safe location) where the RX is installed, etc. This system also keeps workers protection in poor visibility and noisy environments even the worker might not see or hear the machinery approaching.

Equipment
The WORKER UNIT (WU) is installed inside the worker helmet with Breakthrough Triangulation Technology that ensures precise sensing range for higher security requirement. The MACHINE UNIT (MU) is installed on construction machinery or factory machinery. When the worker is approaching to the machinery within the pre-set distance, the buzzer on the worker unit will start buzzing to warn the worker, meanwhile the relay output of machine unit will trigger the external alarm to alert machinery driver or forklift operator of workers around their machine. Depend on how the output relay is signal is use, in some cases these relay can even be use to turn off the machine or to activate a 3rd party messaging system or even to activate a site announcement system to alert the whole area of danger ahead.
SYSTEM COMPRISES
One system can have 20 Machine units (Receivers) and 80 Worker units (Transmitters).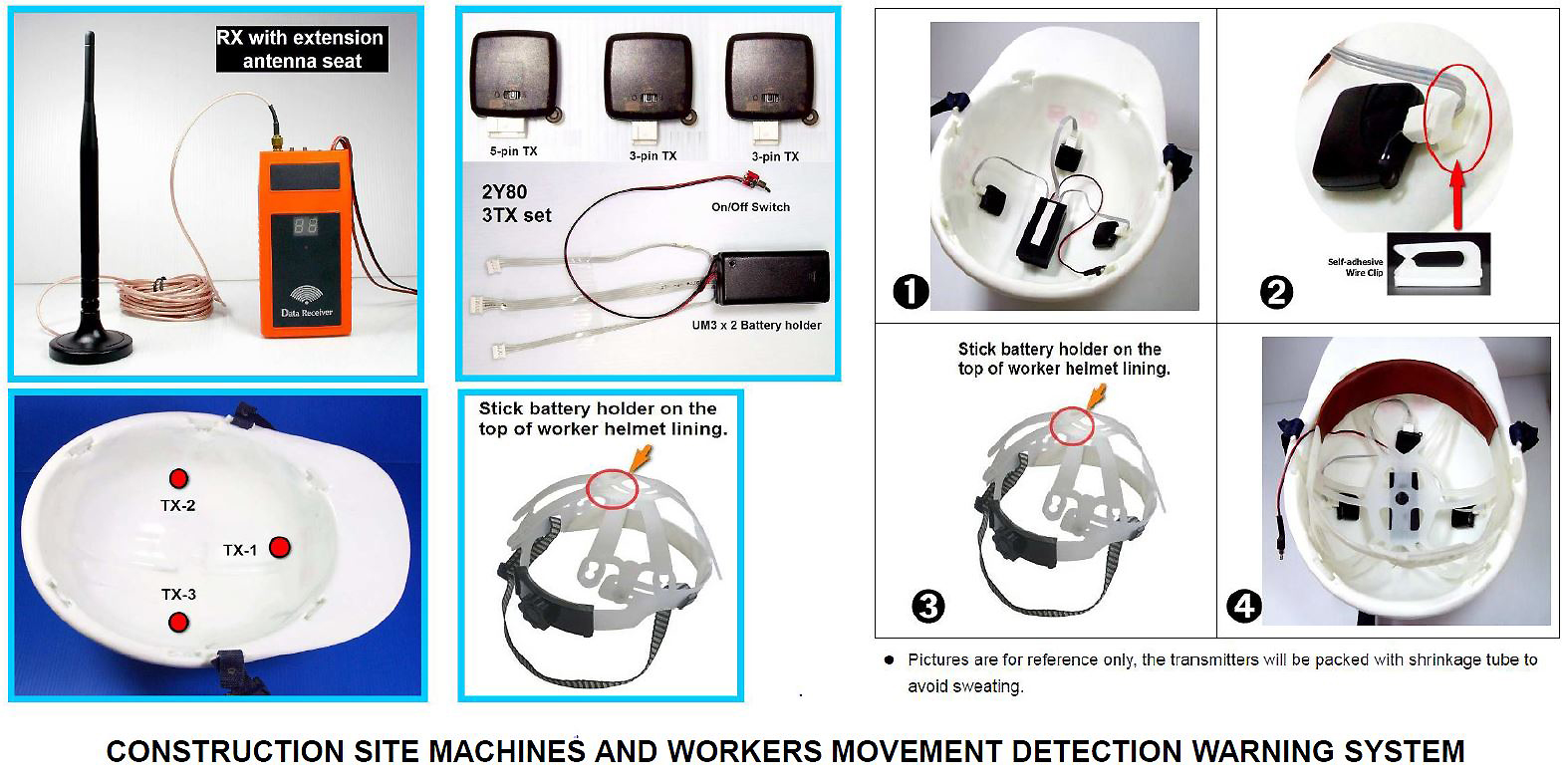 MD-2YP3T WORKER UNIT (Transmitter - 3TX set)
1. This worker unit is designed to install on the top of the workers helmet to get the best transmitting and receiving location. Its radio wave will not be obstructed by human body and will keep similar distance with the receiver on machinery.
2. This worker unit consists of 3 transmitters applying Triangulation Technology to ensure similar distance with the receiver irregardless where the worker is facing.
MD-2YR80 MACHINE UNIT (Receiver - RX)
1. This machine unit comes with a 3 meters extension antenna cable with magnet base for attaching the antenna outside construction machine or forklift vertically.
2. This machine unit has NO (Normal Open) + COM (Common) Relay Output for integrating to 3rd party alert system to trigger external alarm, warning light and also to connect to 3rd party safety and control equipment.
3. This machine unit is available for use on 12V – 24V DC power supply source direct from the machine of external power supply.
HI-TECH, USER FRIENDLY SETTING OF SENSING RANGE
The Machine Unit receiver has 7 segment LED display for setting the sensing range with HEXADECIMAL CODE, smaller code means shorter distance. For example, the distance of 2B will be shorter than 2F or 33.
WIDE SENSING RANGE
The maximum sensing range is about 120 meters, code is 8A.
PRECISE ALERTING DISTANCE
This system applies precise technology to ensure the Worker Unit has similar alerting distance with the Machine unit for a safer working environment, no matter which position the worker is facing or back toward to or lateral to the machinery.
KEEP PROTECTION EVEN IN POOR VISIBILITY OR NOISE PLACE
This system provides maximum protection to worker in poor visibility place, so at night, heavy fog, sand sky, raining and very sunny. Also provide protection in noisy place, the worker could not hear the vehicle approaching at construction site.
POWER SAVING
The worker unit applies power saving technology. Just two AA batteries can last one year for continuous use.

WIDE APPLICATION FOR WORK SITE SAFETY
This system can be applied in mine, forest sawmill, construction site and factories where have higher risk of impact (collision) or dangerous place with chemical or heat or gas, etc.
SPECIFICATION (Change of specification without prior notice)
MACHINE UNIT (RX)
Power requirement: 12V - 24V DC power input
Dimension: L 142 x W 71 x T 24 mm (not including antenna length)
Weight: 260 g
Effective operating distance: Maximum (8A) about 120 meters in downtown sidewalk
Alarm output: Photo relay with Normal Open only, Max. 60V DC 400mA
Operation temperature: 0 - 50 centigrade
Humidity: 5% - 80%

WORKER UNIT (TX)
Battery Type: UM-3 x 2, 3V DC (Battery Duration 12 months)
Dimension: L 64 x W 25 x T 13 mm
Weight: 55 g (including 3-TX set, battery holder and extension switch cable, without battery)
Effective operating distance: Maximum (8A) about 120 meters in downtown sidewalk
Alarm Sound: 70db
Operation temperature: 0 - 50 centigrade
Humidity: 5% - 80%
Installation: Inside the worker helmet

---