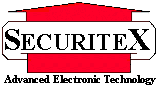 Copyright Notice
@1997 to 2018 Securitex Electronic Systems Engineering & SecureCiti International
All rights reserved.
Securitex & SecureCiti International grants you permission to copy documents copyrighted by Securitex & SecureCiti International and published by Securitex & SecureCiti on the World Wide Web for personal and non-commercial use only within your organization. In return, you agree not to remove any copyright and other proprietary notices, which are contained in such materials. No authorization is granted to copy documents not copyrighted by Securitex & SecureCiti International, which may appear on or be reached by links from Securitex & SecureCiti.
Except for the right granted above, no materials available on Securitex & SecureCiti Websites may be copied, stores, transmitted by any means, including but not limited to electronic, mechanical, scanning, photocopying, or recording, without the prior express permission of Securitex & SecureCiti International.
Warning!!!
Any persons or companies found to have copy our website material without first seeking our approval will be ask to have the information remove from their website at their expense.
Securitex & SecureCiti International expressly reserves all intellectual property rights it may posses in products, processes or technology, which appear on Securitex & SecureCiti International websites.
MATERIALS AVAILABLE ON SECURECITI INTERNATIONAL WEBSITES ARE PROVIDED "AS IS" WITHOUT WARRANTY OF ANY KIND, EITHER EXPRESS OR IMPLIED, INCLUDING, BUT NOT LIMITED TO, THE IMPLIED WARRANTIES OF MERCHANTABILITY, OR FITNESS FOR A PARTICULAR PURPOSE. IF YOUR JURISDICTION PROHIBITS EXCLUSION OF IMPLIED WARRANTIES, THE EXCLUSION OF IMPLIED WARRANTIES MAY NOT APPLY TO YOU.
IN NO EVENT WILL SECURECITI BE LIABLE TO ANY PARTY FOR ANY DIRECT, INDIRECT, SPECIAL OR OTHER CONSEQUENTIAL DAMAGES FOR ANY USE OF THE MATERIALS OR INFORMATION ON THIS WEBSITE, OR ANY OTHER LINKED WEBSITE, INCLUDING, WITHOUT LIMITATION, ANY LOST PROFITS, CLAIMS OR DEMANDS, OR BUSINESS INTERRUPTION, EVEN IF WE ARE EXPRESSLY ADVISED OF THE POSSIBILITY OF SUCH DAMAGES.
We allow any parties to make a link to our site, provided you advise us by email to davidtan@securitex.com.sg
Website disclaimer
The information contained in this website is for general information purposes only. The information is provided by Securitex Electronic Systems Engineering and while we endeavour to keep the information up to date and correct, we make no representations or warranties of any kind, express or implied, about the completeness, accuracy, reliability, suitability or availability with respect to the website or the information, products, services, or related graphics contained on the website for any purpose. Any reliance you place on such information is therefore strictly at your own risk. In no event will we be liable for any loss or damage including without limitation, indirect or consequential loss or damage, or any loss or damage whatsoever arising from loss of data or profits arising out of, or in connection with, the use of this website. Through this website you are able to link to other websites which are not under the control of Securitex Electronic Systems Engineering. We have no control over the nature, content and availability of those sites. The inclusion of any links does not necessarily imply a recommendation or endorse the views expressed within them. Every effort is made to keep the website up and running smoothly. However, Securitex Electronic Systems Engineering takes no responsibility for, and will not be liable for, the website being temporarily unavailable due to technical issues beyond our control.
Trademarks
All trademarks and brands in our website example:
Sony, Panasonic, Sanyo, Hitachi, Toshiba, DSC, Aiphone, Dorma, Elsema, Liberali, Cardin, Came, O&O, FAAC, Everfocus, Ganz, Computar, Phillips, Castle, Pelco, Baxall, Liberali, Samsung, Ebelco, Ernitec, Loktronic, Corkey, Rosslare, Furse, Trigon, Viscount, HID, Syris, Amano, Signal, Nortech etc are the original trademarks and brands of the original manufacturer and company. We will not and never claimed this trademarks and brands as ours and will protect its name to the highest standard as much as possible.
_________________________________________________________________________________________________
@1997- 2018 Securitex Electronic Systems Engineering. All rights reserved.
SecureCiti International is a subsidiary of Securitex Electronic Systems Engineering
Block 9010 Tampines St 93 #04-145 Tampines Industrial Park A Singapore 528844 Tel: +65 67852171 Fax: +65 65850107 Reg. No.: 52838264X

________________________________________________________________________________________________________________________________________________