---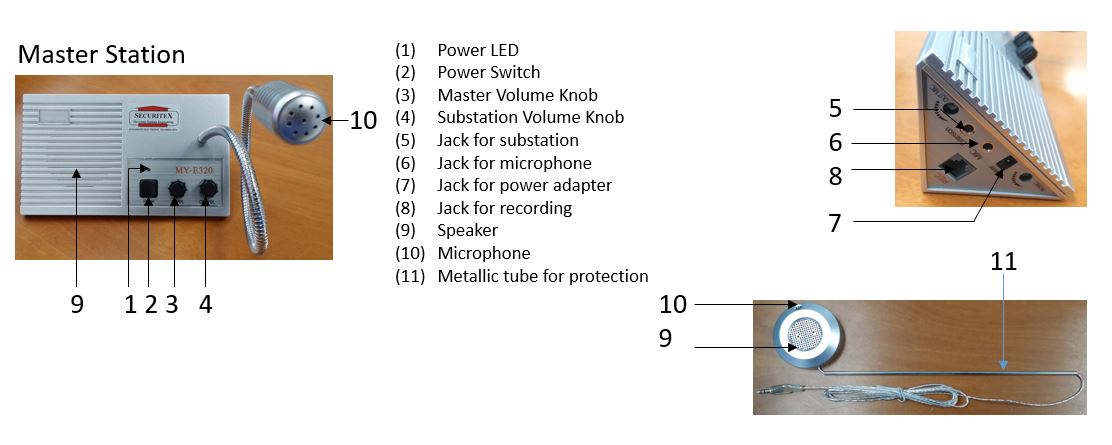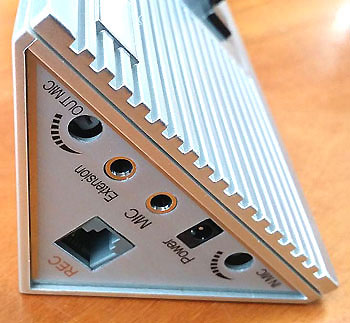 High quality finishes with all control and input output neatly on one side.
MY-320-GB system consist of.
· Master Station (Model: MYS-32MS)
· Substation (Model: MYS-32SS) microphone and speaker uses a single cable aluminum shielded to prevent external interference and also the cable are protected by a steel chrome rod to prevent accidental damage to the cable as the Substation is on the public area.
· 12VDC 300mA extremely high quality and stable power adapter to ensure noise interference is cut to zero.
Operation Instruction
a. Install the master station in the operation room near to the counter glass panel.
b. Install the sub-station on the outside of the operation room and the cable pass through the counter and Insert the substation jack into the master station (Jack 5 for Sub-station)
c. Insert the 12VDC transformer into the power jack (7)
d. Press the power switch of the master station (2) ON, the power LED (1) will light up.
Automatic 2-Way Communication
The system is designed with automatic 2-way hands free communication c/w individual volume control for both the master and the sub-station. Adjust knob (3) & (4) to level 4 or 5 will have the best clear communication. Knob (3) is master station Volume Control. Knob (4) is sub-station volume control.
Application
This system is very ideal to be use at. Cross border Checkpoint. Military Camp. Police Post. Bank. Money Changer Counter. Resort Cashier Counter. Casino Chip Exchange Cashier. Toll Road Cashier Counter. Automated Parking Booths. Embassies registration counter, Aviation Security post and pass office and even in Remote Information Counter etc.
Benefit of the MY-320-GB
* Extremely Crystal Clear and loud communication between the counter staff and the customer which is fully adjustable.
* Hands-free 2 way communication (duplex system).
* Extremely high quality microphone on the master and the sub unit.
* System volume can be controlled independently for the master and the sub unit.
* System can be install outdoor or indoor (for outdoor environment where there is chance of water ingress IP rated enclosure is needed).
* RECORD out connector is also provided to allow the communication at the MY-320-GB be recorded into a recording device. (recording device is by 3rd party)
* Microphone is open voice type and c/w flexible armored goose neck.
* LED indicator shows the operation status.
* Sub-station takes it power from the master station.
* To ensure very neat installation from counter base to the Outside Sub-unit, a chrome cable rod is even provided.
* This system operated from a 12VDC 300amp Power adapter provided.
Technical Detail
Voltage : 230Vac-12VDC
Current : 300mA
Voice Output : 3W+/- 1W 100Hz ~ 15 KHz
Dimension : 155mm X 70mm X 70mm (Master) Diameter 65m X 14mm (Outdoor microphone and speaker)
Microphone : -61 +/- 0.5db 20Hz~16 KHz
---
© SECURITEX HAS BEEN IN BUSINESS SINCE 1997
Securitex Electronic Systems Engineering. All Rights Reserves.
Supply and marketed by: Securitex Electronic Systems Engineering. http://www.securitex.com.sg
Block 9010 Tampines St 93 #04-145 Tampines Industrial Park A Singapore 528844 Tel: +65 67852171 Fax: +65 65850107
---