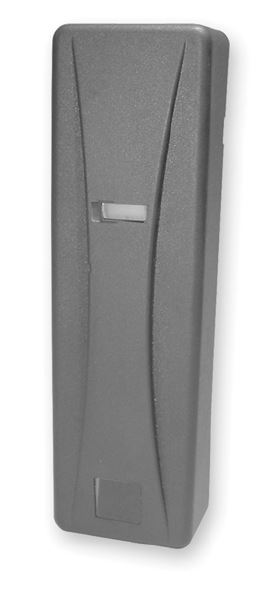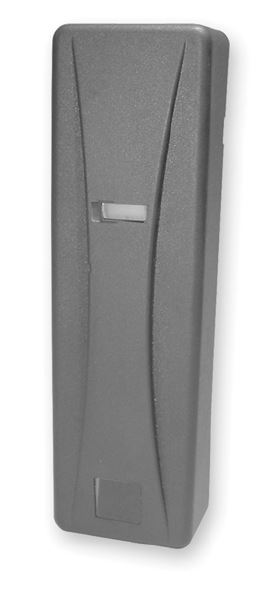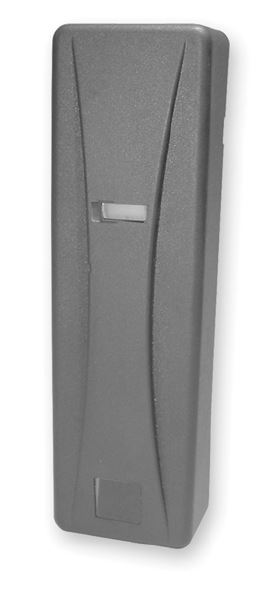 T-500SW (P/N:430209003)
Transition™ Series multi-technology access readers feature simultaneous compatibility with multi-vendor credential technologies—UTC and HID 125 kHz Proximity, HID Corporate 1000 Proximity, 13.56 MHz contactless smart card technologies for MIFARE® Card Serial Number (ISO 14443A), MIFARE/DESFire Card Serial Number, and Vicinity Card Serial Number (ISO 15693), including HID iCLASS® Card Serial Number—all in one reader.

With this remarkable technology combination, security administrators can now deploy the Transition readers into existing or new facilities or systems—continuing to serve existing card-carrying users while migrating to the latest in security and smart-card technology advancements.
No matter which credential technology an organization currently employs, Transition readers allow continued use of existing systems and features—but more importantly, they also offer the ability to transition to new and more secure smart card technology. Transition readers offer security system administrators an economical solution to migrate to this new technology and better secure their businesses, all on their own timelines and budget.
Supported Card Technologies:
• UTC ProxLiteTM, ISO ProxLite, and ProxLite key fobs and tags
• HID 125 kHz ProxCard II, ISOProx II, ProxKey II, ProxCard and Corporate 1000 (custom formats)
• MIFARE ISO 14443A Card Serial Number(CSN)
• MIFARE/DESFire CSN
• Vicinity ISO 15693 CSN
• HID iCLASS CSN
Standard Features
* Configuration card (supplied) sets the Transition reader to 2-state or 4-state supervised F/2F mode, or for Wiegand data output (T-500SW versions only).
* Supports UTC and HID Corporation (including Corporate 1000) Proximity, MIFARE CSN (ISO 14443A), MIFARE/DESFire CSN, and Vicinity CSN (ISO 15693 credentials, including HID iCLASS CSN
* Accepts 6-16 VDC power input
* Allows easy migration from Proximity to Mifare, and Vicinity Smart Card technologies
* Offers high-reliability, consistent read-range performance, and low-power consumption
* Installs on both metal and non-metal surfaces
* Provides tri-color LED and beep indication for status, alarm, and tamper conditions
* Internal tamper alarm alerts security personnel if the reader is breached
Read Range
Distances may vary depending on environment.

Model T-500SW/W:
• UTC Proximity—up to 8.89 cm
• HID Proximity and Corporate 1000—up to 8.89 cm
• MIFARE and MIFARE/DESFire—up to 2.54 cm Ultralight cards not supported
• Vicinity—up to 8.89 cm
• iCLASS—up to 8.89 cm

Model T-520SW/W, T-525SW/W:
• UTC Proximity—up to 15.24 cm
• HID Proximity and Corporate 1000—up to 15.24 cm
• MIFARE and MIFARE/DESFire—up to 2.54 cm Ultralight cards not supported
• Vicinity—up to 15.24 cm
• iCLASS—up to 15.24 cm
Intelligent Supervision
"SW" series of Transition readers provides superior value when performance-matched with select access control platforms. UTC offers intelligent supervision (F/2F Supervised mode) that continuously monitors communication between the access control panel, the reader at the door, and door contact and Request-to-Exit (REX) equipment.
The unique four-state supervision of the Transition readers monitors and reports cut and short-circuit lines.
There's also an internal tamper-alarm mechanism, so security staff are immediately notified if a reader is tampered with, a door is breached or a cable is cut or shorted.
Tri-color LED and audible alerts indicate status, alarm and perimeter-tampering conditions—giving you more security than is possible with conventional Wiegand-based
installations.
Specifications
Colour: Grey, charcoal, and black
Certifications: FCC. CE. UL 294
Dimensions (W x H x D): T-500SW/W : 44 x 148 x 30 mm T-520SW/W and T525SW/W : 148.6 x 114.3 x 31.7 mm
Operating temperature: -25 to 65°C
IP Rating: IP 65
Relative humidity: 0 to 95%, non-condensing
Wiring GE F/2F: 4 conductors (min.)
Wiegand: 5 conductors (minimum)
Cabling distance GE F/2F systems: up to 914 m at 12VDC
Wiegand output: up to 152 m

System compatibility
Microcontrollers: Micro/5-PX and Micro/5-PXN, Micro/PX-2000 and Micro/PXN-2000
Access control systems: Picture Perfect Editions 1.7 or higher, and microcontroller firmware 1.72 or higher
Access control systems: Secure Perfect Editions 5.0 or higher, and microcontoller firmware 5.0.02 or higher
Credentials: For detailed system compliance specifications, refer to the reader installation guide
Proximity (125 KHz): ProxLite, ISOProx, key fobs, and tags (Note: Proximity Perfect cards are not supported) Mifare (ISO 14443A) Mifare Standard, Mifare Light, Mifare Ultra Light, key fobs, and tags
Vicinity ISO 15693: Infineon My-D 2K-S, 2K-P, 10K-S, 10K-P, SLI-2, key fobs, and tags
Ordering Information
Part No. Description
430209003 T-500SW mullion, black*
DATASHEET: GE MULLION CARD READER T-500SW
---

© 1997 - 2020 Securitex Electronic Systems Engineering. All rights reserved

SecureCiti International is a subsidiary of Securitex Electronic Systems Engineering
Block 9010 Tampines St 93 #04-145 Tampines Industrial Park A Singapore 528844 Tel: +65 67852171 Fax: +65 65850107 Reg. No.: 52838264X

---