SECURITEX GE Security Alarm System
GE Security Alarm system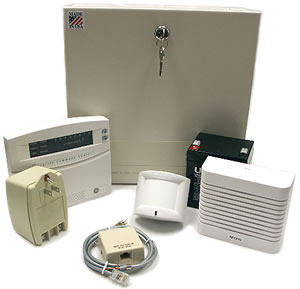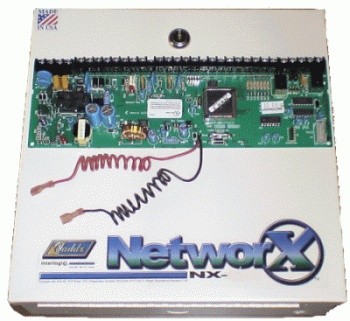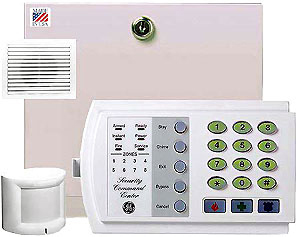 GE Security's entry level NX4 system is the baby of the NetworX product line. Features 4 hardwire zones on board with the capability to do up to 8 total wired or wireless via zone doubling or a wireless receiver.
4 onboard programmable zones
Zone doubling optional
Hardwire/wireless hybrid, up to 8 zones
All zones programmable as any detection device
20 customizable zone types total
8 user codes, 1 duress code
Up/downloadable via programming software
Modular design with slide in PC boards
Siren and telephone line supervision
Automatic arming with auto retry
Download Product Documentation
---
GE Security Simon 3 Wireless Security System
Unique high performance features, simple installation and ease-of-use. GE Security Simon 3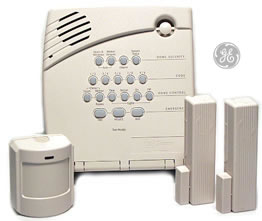 When Less is More. Simon 3 packs a new level of advanced wireless security into a console design that is smaller and more attractive than anything that has come before. Simon 3 has more "high value" consumer features; incredible new performance and built-in quality. Simon 3 proves that great things really do come in small packages!

The Simon 3 Home Security System offers you a wide variety of options and accessories. You choose whether or not you want to use a monitoring system or simply have it call your phone or pager -- or it can do both!


Simon 3.0 Control Panel (Version 4.1)
NX450 (60-670-95R Door or Window Transmitters), 2 ea.
60-NX481 (807-95R Pet Immune Motion Detector). 1 ea
24 Hour Battery 1ea.
X10 Ready Transformer, 1ea.

User Video, 1 ea.
Install Instructions, 1 ea.
User Instructions, 1 ea.
RJ Jack and Cord 1 ea.
Description: Use door/window sensors to protect anything that opens and closes, such as doors, windows, jewelry cases, and gun cabinets. The sensor detects intrusion with a magnet and reed-switch mechanism that signals an alarm during unauthorized entry. Features: Installs on anything that opens or closes For low and average traffic areas Specifications Magnet included Color: White Dimensions: 1.13" wide, 4.25" high, .88" deep Batteries: 2 AAA alkaline

Item Code: NX450

These small, powerful touchpads provide convenient portable control over security system, lights, panic, and garage door functions of your security system.

Item Code: NX470

Description: Created to meet consumer demand for less conspicuous security sensors, the Micro is the smallest sensor of its kind in the security industry.

Item Code: NX454

Description: Wireless flexibility allows door/windows protection even where the sensor must be totally concealed. The sensor is placed in the door frame and the magnet is located in the door.

Item Code: NX458

Description: The PIR detects movement inside an enclosed structure. Pet immunity up to 40 pounds Features: Use in large rooms, narrow corridors, and stairwells 3-minute motion lockout to conserve battery life Optional pet lens Specifications Color: White Dimensions: 2.50" wide, 3" high, 2" deep Battery: 1.5 VDC AA alkaline battery

Item Code: NX481

The GE Wireless Shatter Pro Series provides excellent false alarm immunity without compromising detection. It is ideal for applications where hard wired acoustic sensors are impractical. 20' radius range can protect an entire room with one sensor. Recognizes the actual pattern of glass breaking across the full audio band. User can test sensor operation with a clap of the hands.

Item Code: NX488

GE Wireless photoelectric smoke alarm with Clean Me remote maintenance alert, Learn mode, test/silence. This detector offer the best life safety protection you can get because it detects the most dangerous type of fire - the slow, smoldering fire that creates a lot of deadly smoke. The advanced sensor sounds the alarm at the first sign of smoke, giving occupants time to escape.

Item Code: NX491-NT

NX495-GE,ITI,Caddx Rate of Rise Heat Detector
The ITI Rate-of-Rise Heat Sensor detects danger in areas where high heat may normally occur, such as in kitchens or attics.



External Siren 13950 Produces full volume alarm sounds for large indoor and outdoor areas. Color: White Input Voltage: 5 to 14 VDC. Dimensions: 4.85 x 3.92 x 3.56 in. Weatherproof housing. Sound Output (@6 VDC) 85 dB

Item Code: 13950

The wall-mounted wireless TouchTalk 2-Way RF Touchpad combines a conventional ITI Learn Mode touchpad with an RF receiver, speech chip with 212-word vocabulary, and voice amplification. Designed for use with Simon version 3.0, TouchTalk provides convenient system control plus voice feedback and system status. Features: Convenient light control and system operation. Runs on user-changeable alkaline batteries with typical life of 3 years. Use up to 24 sensors/touchpads per system. Quick and easy to install. Hinged door covers buttons when not in use

Item Code: 60-924-3
24 wireless sensor zones; 2 hardwire zones
6 user-programmable access codes
Up to 8 individual light or appliance control units
Integrated radio receiver
Built-in touchpad
Rechargeable back-up battery
2-way audio verification as a built-in feature or add-on
Supports 2-way RF Talking Touchpad
Complies with UL 985 ratin
Color: White
Dimensions: 6.5" Wide X 7.5" Long X 1.5" Deep
Power supply: 9 Volt AC Line Carrier Transformer (included)
Battery backup: 9 Volt DC 1.2 Ah UltraLife Lithium (included)
Installation: Wall and table mounting (with optional table mounting base)
Programming: ITI ToolBox
Reporting: Contact ID, SIA level 2
Compatibility: Supports all ITI's Learn Mode crystal and SAW sensor
Simon 3 is not only the world's most advanced wireless security system, it is also the easiest security system to install and operate. From hassle-free installation, to ultra-sophisticated sensor design and a full range of innovative "user-friendly" features, Simon puts the power of new technology at your command like never before. When it comes to helping you protect the things you value most; Simon is simply your best choice.

Simon's built-in digital voice directs you through every step of operating the system. It is so simple that even a small child can follow the instructions and use the system

Simon 3 features the most sophisticated security and home automation options ever offered in an entry-level wireless security system. And it's easier to use than any other system on the market. Simon talks, telling you in plain English the status of your system and the location of an alarm. Its pager capability provides peace of mind for working parents with children at home. Light, appliance, and garage door operation add automation convenience at an affordable price. Wireless keychain touchpad control makes system operation as simple as can be.

Download Product Documentation

GE Simon III Product Brochure (Simon III wireless system is Singapore IMDA approved wireless system)

GE Simon III User Manual (Simon III wireless system is an Singapore IMDA approved wireless system)
---
© SECURITEX HAS BEEN IN BUSINESS SINCE 1997
Securitex Electronic Systems Engineering
Block 9010 Tampines St 93 #04-145 Tampines Industrial Park A Singapore 528844 Tel: 67852171 Fax: 65850107
website: http://www.securitex.com.sg email: sales@securitex.com.sg