---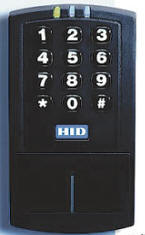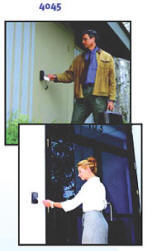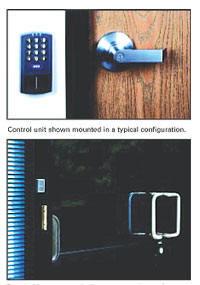 HID EntryProx Stand-Alone Reader with Built-in Controller
For the Entire library of HID readers ENTER HERE
---
Application
Providing single-door proximity access control, EntryProx is ideal for small installations or remote locations when used in conjunction with an on-line system. This rugged, attractive unit can easily be modified to become an on-line reader by switching to a Wiegand output mode, allowing it to connect to any OEM controller. EntryProx is compatible with all HID proximity cards and keytags.
Updated Features
* Invalid PIN Lockout - prevents unauthorized persons from gaining PIN code entry by trial and error.
*        Batch Load by Presentation - allows up to 2000 HID cards or keytags, in any format up to 37 bits, to be loaded by entering a single keypad command sequence. Each card / keytag is then presented to the reader.
*        12-Position Keypad - for PIN entry or programming; the PIN keypad is functional in Wiegand mode.
*        Single Read Mode - prevents Anti-Pass back errors when the EntryProx is in Wiegand mode.
*        Block Delete - allows a sequential range of cards/keytags to be deleted from the EntryProx by user location.
*        Detachable antenna module - can be mounted up to 10 feet away from the control unit, indoors or outdoors.
*        Optional handheld printer - prints transactions via an infrared link.
HID EntryProx Stand-Alone Reader
Specification
Typical maximum* read range
ProxCard II card up to 3.0" (7.5 cm)
ISOProx II card up to 2.5" (6.25 cm)
DuoProx II card up to 2.5" (6.25 cm)
ProxKey and key fob up to 1.5" (3.7 cm)
ProxCard Plus card up to 1.0" (2.5 cm)
*Depending on local installation conditions.
<![if !supportEmptyParas]> <![endif]>
Dimensions
5.25" x 2.75" x 1.375" (13.33 x 6.98 x 3.49 cm)
Power Supply/ Current Requirements 10 - 15 VDC, reverse voltage protected Linear supply recommended, 150 mA @ 12 VDC
Relay Outputs
Strike Relay - Form C, switches up to 4A @ 30 VDC
Aux Relay - Form C, switches up to 1A @ 30 VDC
<![if !supportEmptyParas]> <![endif]>
Monitor Inputs
Door Position - N.O. dry contact
Request to Exit - N.O. dry contact
Sounder
4000Hz, defeat able
LEDs
Bi-Color (Red/Green),
Amber, Infrared (use with optional palmtop printer)
Operating Temperature -22° to 150°F (-30° to 65°C)
Operating Humidity 5% to 95% relative humidity non-condensing
Cable Distance
Remote Reader Module - 10 feet (3m)
Wiegand Interface - 500 feet (152m)
Recommended cable is ALPHA 1295C (22AWG) 5-conductor stranded with overall shield or equivalent
Operation
Strike Time: 1 - 99 seconds (Adjustable)
Strike Mode: Access Timer or Toggle/Latch
Door Ajar Time: 10 - 990 Seconds (Adjustable)
Card Programming
26-bit format - batch enrollment
OEM proprietary format - present card to enroll
Facility Code Processing Options (26-bit only) Check Facility Code and Card ID Check Facility Code only (accept any ID#)
Detachable antenna unit shown mounted away from the control unit.
Part Numbers
EntryProx 4045AGN00
EntryProx plus 10 Keytags 4045AGK00
EntryProx plus 20 ProxCard II 4045A0000
(Please see "How to Order Guide" for a description of the options and associated part numbers)
Accessories
A.    Printer           • 4045-PRN
B.    Security Tool        • 04-0001-03
C.    Printer Paper       • 4045-RFL (not shown)
Certifications UL 294
FCC Certification, United States Canada Certification
CE Mark, Europe UK Type Approval Germany Type Approval Australia C-Tick Mark New Zealand EMC
LIT4045DS 11/01, supersedes 8/01
To download system catalogue click here.
---
Securitex Electronic Systems Engineering
Block 9010 Tampines St 93 #04-145 Singapore 528844 Tel: +65 67852171 Fax:+65 65850107
---