---
SECURITEX SREX1-REX-IR800 Series Infrared Sensor Exit Device

SECURITEX MOTION EXIT BUTTON (SMEB) uses the Infrared Proximity Technology (IPT) to sense the present of hand wave and it allows remote operation of the Request to Exit function up to 50-150 mm. This SREX1 is compatible with all access control systems and can also be used in "stand-alone" applications without the access control system.
This product is are mostly use in medical facility and very sterile environment where opening the electronic door by pressing the physical push button is forbidden to avoid cross contamination due to many people touching the normal REX physical button or in environment where the user has their hands full.
The relay is triggered when the user wave their hand on the detection field, switching the contact output to provide the REX output to open the door.
FEATURE AND SPECIFICATION
· Available without over-ride switch. (For override function please indicated when order).
· Material: Stainless Steel
· Finish: Brushe
· LED indicators
· Operating voltage: 12 VDC
· Current requirements: 68 mA maximum.
· Sensor range: Up to 150mm
· Contacts: Normally Open - Common - Normally Closed
· Contact rating: 3A @ 125 VDC / 30 VDC
· Relay timer period: 0.5, 5, 10 or 20 seconds (selectable)-Optional
· Nominal Dimensions: 86mm x 86mm (Single Gang wall switch back box)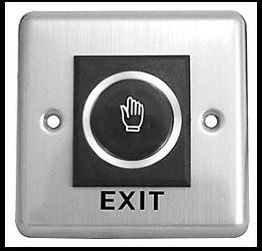 ---
@ 1997 to 2018
Supply and marketed by: Securitex Electronic Systems Engineering. http://www.securitex.com.sg
Block 9010 Tampines St 93 #04-145 Tampines Industrial Park A Singapore 528844 Tel: +65 67852171 Fax: +65 65850107
---