Overview
Company Photo ID card printing can sometime be expensive if the organization has only a few staff and turnover is high yet for corporate image, staff need to wear Identification tag with the company logo, staff photo and detail. When the printing is less, investing on a professional thermal transfer card printing machine can be a costly affair to the company.
We at Securitex is aware of this problem face by many small and medium size enterprises and companies and has gotten a special Inkjet adhesive paper pre-die-cut to the exact dimension of the RFID access card (53.5mmX85mm) on a single A4 adhesive label sheet with 10 die-cut label per sheet.
With this special adhesive pre-die-cut paper you can print Professional quality ID photo label from 1 ID photo label to 10 ID photo label each time just by using your office inkjet printer.
Specification
Dimension: A4
Material: 160GM Mirrokote Paper (Laminated)
Printing: Blank c/w die cut only.
Sheet: Each Sheet contain 10 pre die cut label 53.5mmX85mm 160gm (Thickness)
Machine to Print this Mirrokote ID: Normal colour Inkjet printer.
Detail Dimension: Click here.
Printing Procedure
Use a Simple Colour Inkjet Printer.
Using Microsoft PowerPoint to create an A4 Template (sample of template click here) (Sample of template of Microsoft PowerPoint)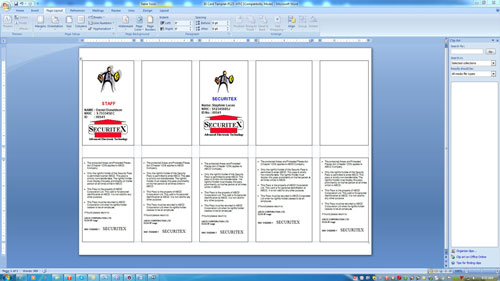 Insert the Pre-die-cut adhesive paper onto the printer just like when your place ordinary A4 paper on the printer taking note of the print side (Die-cut-side) depend on the printer type.
Start to design and create your company staff Photo ID. (see sample)
Depend on how many ID label you want to print. Insert the design on each label accordingly on the template you have created on the PC.
Press Print.
Once the Photo ID label is printed on the Die-cut label.
Just peel - off each label and than stick the label to the staff RFID access card or blank plastic card.
Place this card into a plastic card holder and you are ready to issue this personalized photo ID card to your staff.
Type of inkjet printer recommended
Epson. Cannon. HP. Lexmark. Samsung. as long as inkjet printer you can use.
Software to created template
Template can be created from Microsoft words or PowerPoint.
What happen if we cannot design the ID label
Securitex do provide a sample ID card template specially design to your company if your staff cannot do it. You will need to provide us sample information you need on the card. Then you need to let us have your COMPANY LOGO. COMPANY NAME. NAME OF STAFF (This is editable). STAFF ID (This is editable). We will then base on the Artwork and designed the ID template for your company. The fee (1 time charge) for such service range from minimum S$ 280.00 - S$380.00 per design / Artwork with maximum 2 alteration (Alteration due to Securitex error like typo error etc will be waive).
Where to purchase.
To purchase this paper please email to sales@securitex.com.sg minimum sheet purchase is 5 sheet=50 labels
For more detail on this in-house printing service please email us of call us at 67852171 our friendly staff will be more than happy to assist you.
Note: When purchase the paper label please indicate if you are using inkjet or laser.
SECURITEX ELECTRONIC SYSTEMS ENGINEERING
Block 9010 Tampines St 93#04-145 Tampines Industrial Park A Singapore 528844. T:67852171 F:65850107.http://www.securitex.com.sg