Securitex SMISP-1-VR2 24VDC surge protector for buses, trucks, containers, excavator and even boats and vessel etc is the improve version from the SMISP-1-VR1. The overall function is the same but the installation is more easier as the cover need not be open. Furthermore operation indicator is easily accessible.
---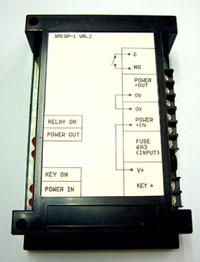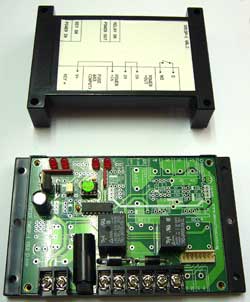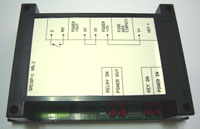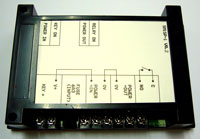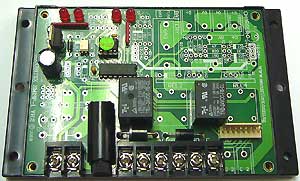 The Securitex Mobile Intelligent Surge Protector was designed and manufactured by Securitex Electronic Systems Engineering (Auto-Security-Surge-Technology department) for the vehicle industry. This surge protector is use in buses, trains, crane. excavators, cars and even generator where there is 3rd party equipment needs to be interface to the vehicles etc. What is SMISP-1 some may ask and what situation will this device needed and finally how to install them etc.
We understand that when installing electronic systems in vehicle like Automobile entertainment system, Global Positioning System (GPRS), CCTV with Digital Video Recorder System in buses and trucks. CCTV system on containerized trucks, mobile cranes and communication devices etc. This sensitive equipment will be subjected to massive surges during the vehicle start and stop. These extremely high surges we "call spike" can overtime damage the sensitive electronic component and cause premature malfunction. In more severe cases the damage of these equipment is almost instantaneous.
Securitex Mobile Intelligent Surge Protector can prevent these surges to even reach the equipment. Most system that is design to be install in vehicle usually c/w its built-in surge protect. The system come with built-in Primary protection circuit using relay that is control by preprogrammed timer and Secondary protection circuit if the primary protection fails using Transient Voltage Suppression technologies. (TVS) Devices are designed specifically for the protection of electronic systems from the destructive effects of Lightning, Electrostatic Discharge (ESD), Nuclear Electromagnetic Pulse (NEMP) and Inductive Switching. These TVS devices are constructed from low leakage components and high-energy absorption capability from 300 watts up to 648,000 watts. The system will cramp the voltages at up to 30VDC. Securitex SMISP-1 VR.2 have built-in programmable timer relay to turn on and off equipment before or after starting of the vehicle. This logic is fully programmable as we use built-in Microchip.
With Securitex SMISP-1 VR.2, you can be absolutely sure that your system install in the vehicle are well protected.
Our SMISP-1 VR.2 specification as follows:
Securitex SMISP-1 VR.2 (surge protection c/w relay)
2 relay output channel
* Channel 1 activated 20 Seconds after ignition ON and deactivated 10 Seconds (Optional 300 to 600 Seconds depend on model)
after engine cut-off (This out put is use for powering the system. The activation and deactivation time can be preset or
programmed)
* Channel 2 output 1 sec pulse when engine cut-off detected.
(This output can be use for shutting down system that needs proper shutdown process)
Channel 1 up to 10A at 24V

Channel 2 up to 5A at 24V

Quiescent current < 10mA

24VDC fuse rating 6.3 amp

4 LED indicator (shows the stages of the system)

Size = 144mm x X89mm X 40mm
(Note: The above system final design is subject to change without notice)
Connection
[C & NO] This terminals are use to send a pulse to turn off devices prior to the power shutting down when the key switch is turn off
[0V & + Power OUT] This terminals are to be connected to devices, this output provide the 24VDC power after 20 seconds when the key switch is turn ON. When the Key switch is turn OFF the power will cut out after 10 seconds. (note all this activate and deactivate timing is programmable)
[V+ & Power +IN] This terminals are to be connected to the vehicle battery terminal Ground to 0V and Positive to +IN.
[K+] This terminal is to be connected to the bus Key Switch
Operation indication
[RELAY ON] This indicate that the SMISP-1 VR.2 pulse relay is activated
[POWER OUT] This indicate that the 24VDC from the vehicle is supplying the voltage to the electronic equipment.
[KEY ON] This indicate that the Key to start the SMISP-1 VR.2 is ON
[POWER IN] This indicate that the power input to the SMISP-1 VR.2 is ON.
The above vehicle surge protector unit are currently been use in the buses that are operated by Singapore Bus Service (SBS) and Singapore Mass Rapid Transit (SMRT) to protect the CCTV system installed in the vehicle, cameras and Digital Video Recorder etc .
For more information or specifications on Securitex SMISP-1 contact:
Singapore Sales office:
Securitex Electronic Systems Engineering
Block 9010 Tampines St 93 #04-145
Tampines Industrial Park A
Singapore 528844
Tel: +65 67852171 Fax: +65 65850107
Attn: Mr. David Tan
The above system designed and function is subjected to change without notice.
---
© 1997 - 2019
Securitex Electronic Systems Engineering. All rights reserved
SecureCiti International is a subsidiary of Securitex Electronic Systems Engineering
Block 9010 Tampines St 93 #04-145 Tampines Industrial Park A Singapore 528844 Tel: +65 67852171 Fax: +65 65850107 Reg. No.: 52838264X
---