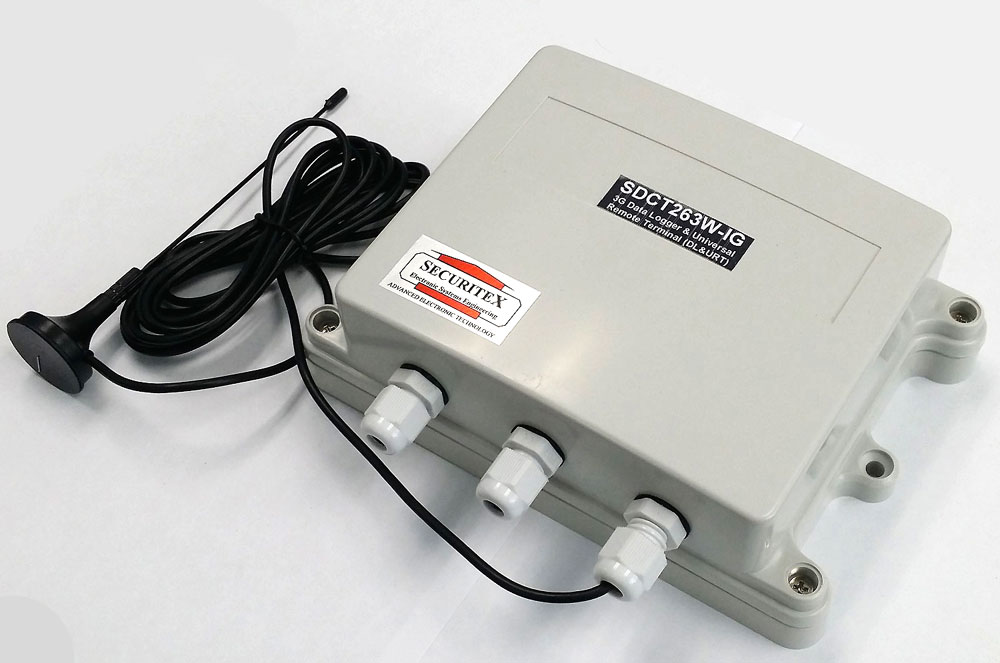 APPROVED BY IMDA SINGAPORE
Registration number: S0233-17
What is Securitex SDCT263W-IG 3G Data Logger & Universal Remote Terminal DL&URT.
Overview
The SECURITEX SDCT263W-IG Data Logger is a 3G system that is incorporated with the QUECTEL UC15 module. This system can be use for date collection, logging and transmit to a data collection centre. 4 Channel Analog inputs (0-20mA,4-20mA,0-5V) support Ultra Low/Low/High/Ultra-High limit alarm monitoring. One digital relay output with NC/NO contacts controlled by alarm event, SMS command or Rejected Caller-ID (charge free). The analogue input when receive (0-20mA,4-20mA,0-5V) it can send SMS messages to the authorized monitoring personnel
Mobile phone to inform him or her of the status and he can then sent a pre-configured SMS message to the device OUTPUT to activate the relay.
With Internal memory, SDCT263W-IG save historical data half a year for inquiry & download by PC software via USB cable. Using manufacturer CMS-02 Remote Monitoring System via GPRS TCP/IP and tracking the real time GPS location with optional GPS module. Daily report, schedule upload, event upload via GPRS to remote monitoring centre (TCP/IP) or by SMS to users mobile phone directly. SDCT263W-IG used for field monitoring in world wide, we offer GPRS protocol for clients to build their own monitoring software/applications.
Features
Network: 3G 900/2100@UMTS 900/1800@GSM; distribute worldwide applications available
Input: 4 channel analog input: 0-20mA,4-20mA,0-5V
Setup and Control: SMS command or PC Software programming
Editable: User-programmable alarm thresholds (Ultra-Low/Low/High/Ultra-High)
Mobile number receivable: 6 numbers for receiving input alert and relay control
Relay control: Programmable when alarm thresholds exceed
Relay control: By Caller-ID with free of charge, SMS, GPRS (CMS-02)
Data Recording: Recording data on internal memory:
Min interval: per 5mins, can save data on unit more than 6 months
Max interval: per 255mins,can save data on unit more than 10 years
Historical data: Download to PC (MS Excel format) via USB
Historical data: Query and download remotely by GPRS (CMS-02)
Server Supports: 2 Server (Master and Slave) via GPRS
Reports: Daily report, schedule upload, event upload programmable
Power Status Monitoring: AC/DC Power status monitoring, AC ON/OFF alert by SMS
Backup Battery: Rechargeable Backup Battery inside(Approx.8hours standby)
Enclosure: IP67 Environmental protection enclosure(SDCT263W-IG)
GPS: GPS tracking module optional
Specification
Input Channel: 4 Analogue 0-20mA, 4-20mA and 0-5V
Output: 1 Relay, NC/NC/COM Contacts. 7A/125VAC. 5A/250VAC, 20A/14VDC
Accuracy: 0.5-1 degree Celsius from -10 to +85 degree Celsius
Power Supply: 9-24VDC 2A
Power Consumption: 12V input Max 50mA/Average
SIM Card Supporting: 3V SIM Card
GSM Antenna: 50ohm SMA Antenna Interface
Backup Battery: 3.7V/1200mAH
Working Temperature: Relativity humidity 90% (Condensation free)
Installation: IP67 Enclosure
Connecting Wires: 2.5mm
Exterior Dimension: 180mmX140mmX60mm (SDCT263W-IG)
Net weight: 250g
International Customers:
We ship directly worldwide using major shipment carriers, such as DHL, UPS, Federal Express or EMS Postal service etc. We even hand delivered all the way to the Ship if permissible like if your vessel is dock in Singapore port for stop over or repair work.

If you would like to order or for any inquiries,
just send us an email sales@securitex.com.sg with your order information and system request
---
@ 1996 -2018 Securitex Electronic Systems Engineering. All Rights Reserves.
Securitex Electronic Systems Engineering
Block 9010 Tampines St 93 #04-145 Tampines Industrial Park A Singapore 528844 Tel: +65 67852171 Fax: +65 65850107
Email: sales@securitex.com.sg
---