SUPER-LITE BATTERY CHARGER AND ENGINE STARTER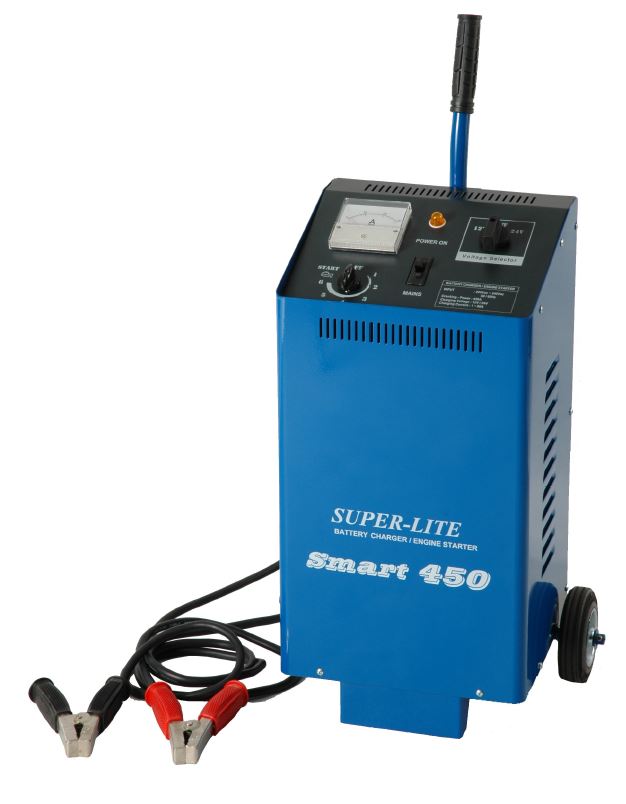 SMART 450 STM-2460
A mobile Starter / Charger designed for the garage and fleet operator with modern-style metal casing.
Used as slow & fast charger and booster.
Equipped with timer for fast charging and auto stop purposes.
Selectable battery voltage range control. (12V & 24V)
Input and output breaker protection.
Variable and adjustable charging current control.
Fitted with rubber-tire wheels and handle for instant mobility.
Built-in MCB against overloads and polarity inversion.
Selectable charging current control.
Robust in design and maintenance free.
Easy to operate, reliable and economical.
Download specification click here.
SUPER-LITE 12V10A (Panel Mount Charger) Compact Series
General Data:
Rated Supply Voltage
240V + / - 10% 50Hz.
Battery Type
Nickel Cadmium Battery.
Lead Acid Battery.
Battery Voltage
DC 12V, 24V batteries.
Boost Charge Voltage for 12V / 24 V Batteries
Nickel Cadmium - 15 ~ 15.5 Vdc / 30 ~ 31 Vdc.
Lead Acid Battery - 14.5 ~ 15 Vdc / 29 ~ 30 Vdc.
Float Charge Voltage for 12V / 24 V Batteries
Nickel Cadmium Battery - 14.25 Vdc / 28.5 Vdc.
Lead Acid Battery - 13.75 Vdc / 27.5 Vdc.
Charging Current: Maximum charging current is limited to 5A and 10A respectively.
Mounting: Metal bracket fabricated from heavy gauge steel with epoxy finishing.
Designed for vertical mounting to obtain good conventional cooling.
Application:
Suitable for Standby Generator Set battery charging.
Control Features
Electronics Current Limiting.
Boost Charging facility.
Auxiliary Trickle Charging facility.
Incorporated with Rectifier Failure Relay
Download Specification click here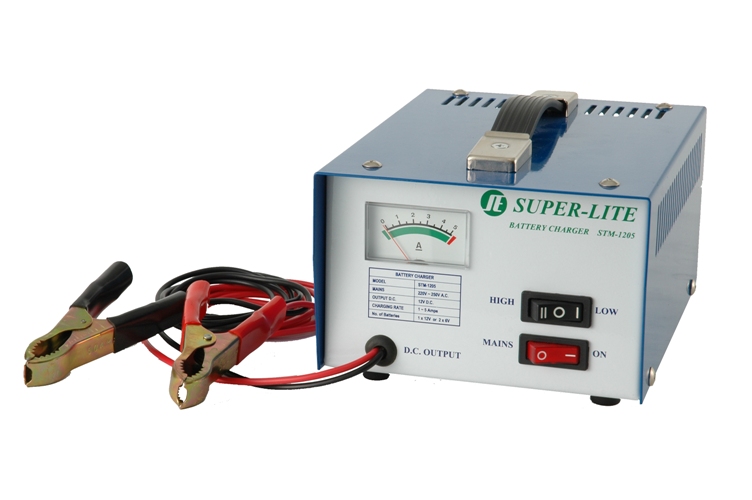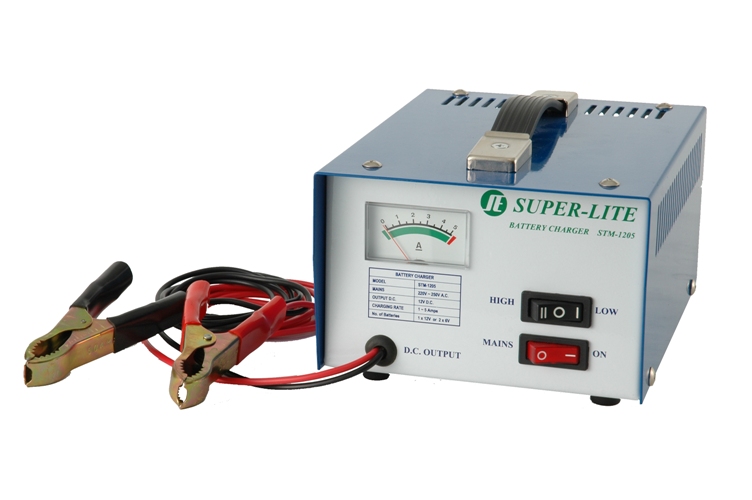 SUPER-LITE STM 2410 / STM 2420 LEAD ACID BATTERY CHARGER
SUPER-LITE Lead-Acid Battery Chargers are designed to cater for high volume battery charging of up to 9 pieces of 12V batteries or 18 pieces of 6V batteries connected in series. This is made possible with the use of multiple voltage and current selections to provide various combinations of charging conditions to suit individual requirement.

Standard models are supplied in heavy gauge steel casing complete with epoxy finishing which comes in two different designs of Fixed and Multiple voltage / current selections. This charger is highly robust and extremely suitable to be used in industrial environment, oil and gas industries and shipbuilding industries to charge standby batteries. In place where power outage is very common, SUPER-LITE will ensure the spare battery will be fully charge and is ready to be use. Due to the high charging capacity this charger will charge-up even the most drained out battery in a very short time.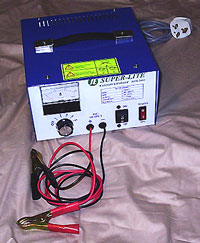 Feature
| | |
| --- | --- |
| Rated Supply Voltage | Charging Current |
|   220~240Vac 50Hz |   Maximum  - 5A, 10A and 20A |
| | |
| Battery Type | Battery Arrangement |
|   6V and 12V Lead Acid Batteries |   Series connection only |
| | |
| Number of Batteries | Enclosure |
|   6V battery - 1 to 18 pieces (maximum) |   High quality steel plate with epoxy powder coated finishing |
|   12V battery - 1 to 9 pieces (maximum) | |
| | |
| Charging Voltage | Safety Features |
|   Fixed range - 12V and 24V |   Fast blow glass fuse |
|   Multiple range - 6V ~ 48V or 96V |   MCB over current protection |
| 12V ~ 24V or 108V | |
| | Application |
| |   Suitable for automobile lead acid battery charging |
Model and Specification
Model

Charging Voltage (Vdc)

Charging rate (A)

Dimensions (mm) H X W X D

Type

Weight (Kg)

12V

5A

120 X 160 X 220

A

3.0

12V

10A

120 X 160 X 220

A

4.5

12V or 24V

10A

160 X 240 X 270

B

8.0

12V or 24V

20A

300 X 340 X 330

C

16.5

6V to 48V

10A

300 X 340 X 330

D

16.5

6V to 48V

20A

300 X 340 X 330

D

22.0

6V to 96V

10A

300 X 340 X 330

D

25.0

12V to 108V

10A

300 X 340 X 330

D

26.5

SE715
Battery Charger
Engine Starter

To download catalogue and specification click here

To purchase the above product please contact us at: sales@securitex.com.sg

The above shows the Yuasa Sealed maintenance free battery "Model CMF 46B24L"

Note:

As charging battery usually cause sparking when the cable positive and negative clip are introduce and hydrogen gas discharge, care must be taken to ensure that battery charging are carryout in well ventilated area. In Oil and Gas industries or shipyard environment extreme care must be taken when using external battery charger. Please consult your plant engineer for advice on the safe area for charging

Marketed by:

Securitex Electronic Systems Engineering

Block 9010 Tampines St 93 #04-145 Singapore 528844 Tel: +65-67852171 Fax: +65-65850107 http://www.securitex.com.sg

To purchase the Super Lite Battery charger please feel free to contact us at sales@securitex.com.sg or 67852171.