To download catalogue and specification click here
To purchase the above product please contact us at: sales@securitex.com.sg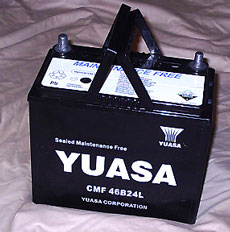 The above shows the Yuasa Sealed maintenance free battery "Model CMF 46B24L"
Note:
As charging battery usually cause sparking when the cable positive and negative clip are introduce and hydrogen gas discharge, care must be taken to ensure that battery charging are carryout in well ventilated area. In Oil and Gas industries or shipyard environment extreme care must be taken when using external battery charger. Please consult your plant engineer for advice on the safe area for charging
Marketed by:
Securitex Electronic Systems Engineering
Block 9010 Tampines St 93 #04-145 Singapore 528844 Tel: 67852171 Fax: 65850107 http://www.securitex.com.sg
To purchase the Super Lite Battery charger please feel free to contact us at sales@securitex.com.sg or 67852171.