---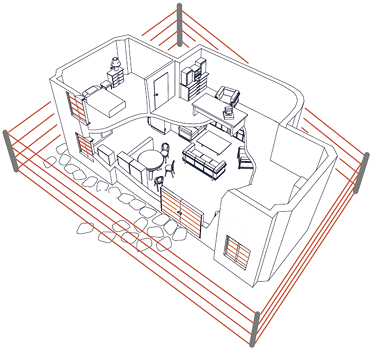 Anti Intrusion using Active IR (Infrared beam)
---
Ever dream of a grilled free windows and door for clear view and yet have the benefit of safety and security. We at Securitex Electronic Systems Engineering after years of working on infrared beam has now implemented the Patented FSLIM Pro which is an infrared beam barrier that can be install on windows, doors and even hallway to protect against illegal intrusion. The FSLIM transmit an invisible IR beam across the opening of windows and door and when this beam has been violated, the signal can be sent to a security alarm panel to activate an alarm to warn the occupant of intrusion.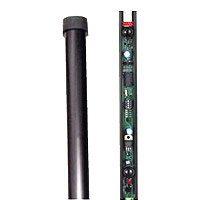 FSLIMPRO (2-4 beams) (Patented)
To better understand how to use the FSLIMPRO active infra-red barrier please (Watch this Video)
The FSLIMPRO active infra-red barrier has been designed and built to guarantee a fast and easy installation. The electronics incorporated in the profile with optic synchronism, reduce the amount of connection cable laying to the minimum: power supply and alarm contact.
They are available in profile from 0.5m to 3m. The FSLIMPRO may be adapted to suit specific applications. The type of the profile and the special shape of the caps ensure a sealed fixing for external use. The beams can be positioned at the desired height inside the FSLIMPRO to personalized the protection level.

Range 12 m internal, 10 m on the wall edge
Profile in anodized aluminum with polycarbonate cover
Profile can easily be cut to adapt to suit the height of the space
Integrated electronics ensure no extra external enclosure needed
Multiplex and synchronized system
Expandable up to 8 pairs of synchronized beams (with additional FSLIMPLUS beams)
Anti-opening, tear-proof tampers excludible with a jumper
Cable clamps, screws and O-Rings supplied
1 output exchange relay N.O. /N.C.
Easy to install and align beams thanks to four levels of power in the infrared transmission
LED signals beam status (excludible with jumper)
Operating mode selectable with Dip-Switch.
Kit barriers
FSLIMPRO05
Height 0,5 m - 2 beams
FSLIMPRO10
Height 1 m - 4 beams
FSLIMPRO15
Height 1.5 m - 4 beams
FSLIMPRO20
Height 2 m - 4 beams
FSLIMPRO25
Height 2.5 m - 4 beams
Height 3 m version available on request
| | |
| --- | --- |
| Technical specifications | |
| Power supply | 12 Vcd |
| Absorption | Max 50mA with 8 beams |
| Wavelength I.R. | 950 nm |
| Range | 12 m in internal 10 m wall-fl ush |
| Output contact | 1 N.O./N.C |
| Relay Intervention time | from 100 ms to 1 s settable |
| Restore time | 0,5 s |
| Protection rating | IP 55 |
| Operating temperature | from -20° to +55° C |
| Weight | from 700 g to 2500 g depending on the barrier |
---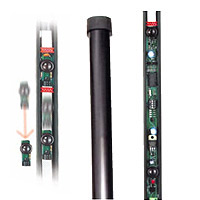 FSLIMRF (2-8 beams) (Patented)
FSLIMRF is a battery powered active infra-red barrier for the protection of balconies, doors, and windows which will transmit alarm transmission via radio for a completely wireless installation. The barrier is made up of two aluminum the infra-red transmitter and receiver, within the dark polycarbonate covers. The basic unit consists of a master card to make up a two-beam barrier to which may be expanded to include additional FSLIMPLUS expansion beams can be added up to a maximum of 8.
The additional beams can be freely positioned inside the profile, allowing the installer to adjust the beams to suit any installation or application. Profile are available in various sizes from 0.5m to 3m, to allow adapted to suit specific needs. The type of the profile and the special shape of the caps ensure a sealed fixing and allow it to be mounted wall-flush externally
Range 7 m internal and 5 m wall flush
Battery powered, 2 years battery life (10 radio transmissions per day with 4 beams)
Optional additional battery kit
12VDC linear power supply connection (if required)
Easily to install (may be cut to fit various height
Expandable up to 8 pairs of synchronized beams
Flat cable connections for ease of installation
Adjustment of reply time and intervention logic (via a dip-switches)
Anodised aluminium profile and polycarbonate cover
Upper and lower rubber caps with ventilating hole ABS plastic to prevent condensation (misting) and the intrusion of insects
Wall fixing with screws and O Rings (supplied)
Anti-opening and anti-tear tamper (can be excluded with a jumper)
Easy installation and alignment of the barriers with a buzzer.
With FSLIMTX module: 433.920 MHz radio transmission signaling: alarms, flat battery, tamper, supervision, alarm end
With FSLIMOUT module: 2 relay outputs for alarms and flat battery signals for implementation on any existing alarm via radio.
| | |
| --- | --- |
| | |
| The FSLIMRF05 infrared barrier is made up of a MASTER and a SLAVE cards on one loop board. All the other barriers FSLIMRF1015-20-25, consist of a MASTER card and SLAVE card with 2 beams on board with two additional beams (n° 1 FSLIMPLUS) consisting of a pair of transmitter and receiver probes. Each loop is made up of an infra-red outward beam and a return beam; the MASTER transmits the signal to the SLAVE that re-transmits it, amplified, to the MASTER. The barrier can manage up to 8 beams (4 loops in total) and an expansion kit for two beams can be purchased to expand it. | |
Kit barriers
FSLIMRF05
Height 0,5 m - 2 beams
FSLIMRF10
Height 1 m - 4 beams
FSLIMRF15
Height 1.5 m - 4 beams
FSLIMRF20
Height 2 m - 4 beams
FSLIMRF25
Height 2.5 m - 4 beams
Height 3 m version available on request.
Technical specifications
Power supply
3.6V with 2 Lithium Thionyl Chloride batteries AA size 2.7Ah;
alternatively 12VDC power supply or additional 3.6V battery
to connect to the special connection.
Absorption
280 μA with 4 beams in standby; 550μA with 8 beams in standby;
10mA during radio transmission with FSLIMTX module 20 mA
during alarm activation with FSLIMOUT module
Battery Life
2 years, with 10 radio transmissions each day with 4 beams
Intervention time
300 ms or 900 ms, selectable with a dip-switch
Alarm frequency
min. 10 s
Wave length
IR 950 nm
Intervention logic
interruption of 1 or 2 beams, selectable with a dip switch
Output
with FSLIMTX, radio transmission at 433 MHz. 5 channels
with FSLIMOUT 2 relays (N.O. /N.C.) for alarms and fl at battery
Alarm types
beam interruption, beam restore, fl at battery, supervision
(can be excluded with jumper) tamper
Supervision interval
60 minutes
Operating temperature
-20° to +55° C
Radio transmission range
150m in open environment, 50 m inside
Settings
selection of time and intervention logic, beam enabling
Signals
buzzer for aligning (active during aligning)
Radio transmission LED (excludible using jumper)
Protection rating
IP 55
Weight
from 700 g to 2600 g depending on length of the barrier
---
Active IR outdoor perimeter barriers

INFRA

The INFRA column for infra-red perimeter barriers is made up of INFRA profile in black Anodized aluminum with polycarbonate cover and is available in lengths from 1m to 4m. With the appropriate accessories it can be wall mounted, floor mounted or mounted on an underground mounting base.

Inside the INFRA column the following can be fixed:

• beams IOR5MS and 2PH60C beams with STIOR adaptor
• beams BIRAY200S beams with STBIRAY adaptor
• beams 2PH150A and 4PH200A beams without adaptor

Suggested configuration for 1 column with wall mounting:
Suggested configuration for 1 column with direct floor mounting:

INFRA column
TAINFRA upper cap for column
TINFRAB lower cap for column
supports for wall mounting SUPINFRA: 2 pieces every 2 m of column
1 power pack ALCO for column (Absorption max. 1 A)
thermal unit TERMCOL2: 1 piece every 1.5 m of column

1 INFRA column
1 TAINFRA upper cap for column
1 FLINFRA flange for column:

FLINFRA45 for columns max height 2 m
FLINFRA165 for columns over 2 m

1 power pack ALCO for column
thermal unit TERMCOL2: 1 piece every 1.5 m of column
FLINFRA165 for columns over 2 m:
1 INFRA column
1 TAINFRA upper cap for column
1 FLINFRA flange for column:

FLINFRA45 for columns max height 2 m
FLINFRA165 for columns over 2 m

1 BASEINFRA for column
1 power pack ALCO for column
thermal unit TERMCOL2: 1 piece every 1.5 m of column
Assembled measures
INFRA10
INFRA15
INFRA20
INFRA25
INFRA30
INFRA35
INFRA40
height 1 m
height 1,5 m
height 2 m
height 2,5 m
height 3 m
height 3,5 m
height 4 m