Securitex Flammable Gas Detector
Introduction
A portable gas detector is a device that detects the presence of LPG or LNG gases in an area, often as part of a safety system . This type of equipment is used to detect a gas leakages and interface with some time interface with control system so a process can be automatically shut down. A gas detector can sound an alarm to operators in the area where the leak is occurring, giving them the opportunity to leave. This type of device is important because gas leak in kitchen and enclosed place can can be harmful and very dangerous when ignited.
Securitex Gas detector NDV-104N was developed to ease the detection of LPG leakages in area like Kitchen, Cook house, LPG cylinder storage shed, etc
NDV-104N is a safety device that sounds an alarm when there is gas leakage. This is a standalone type gas detector which do not required any external controller to operate in conjunction. However it has an output that can be integrated to an external control for example to shut off the isolation valve on the discharge of gas cylinder when the gas detector detect the present of gas leak.
This output can also be integrated to the Fire Alarm Panel to sound of building wide Fire Alarm when the system detected
The ND-104N LPG and NG gas detector was manufactured by Shin Woo. This gas detector are widely use in commercial kitchen, factory canteen, vessel kitchen and also in home kitchen etc. The ND-104N can detect even a small leakage of gas and the designed make it very easy to install and blend in with most kitchen deco. The ND-104N was also designed to take a certain amount of water splash as such is suitable to install in area which is damp.
Model: ND-104N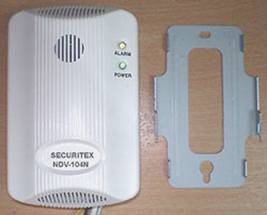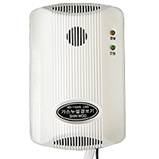 Feature

<![if !supportLists]> · <![endif]>Easy to install

<![if !supportLists]> · <![endif]>Compact and Simple design

<![if !supportLists]> · <![endif]>Install on the wall in Kitchen or Boiler Room

<![if !supportLists]> · <![endif]>LP Gas, Natural Gas, Propane and Butane (Can be detected)
How to install

<![if !supportLists]> 1. <![endif]>Gas detector

<![if !supportLists]> 2. <![endif]>Gas range

A:               Install within 30cm

B:               Locate within 6 meter

C:               Locate within 4 meter

L:               In case of lighter gas than Air-Natural Gas and Methane

H:               In case of heavier gas than Air-LP Gas, Propane and Butane
The unit is to be install within 30cm from the bottom if you use heavy gas such as LPG, propane and 30cm from ceiling if you use light gas such as LNG, methane and the detector is to be located and install 5m from gas appliance

System Specification

Model

ND-104N

Weight

240g

Type

Standalone Alarm

Application

Kitchen, Apartment, Office, School and factory canteen. Restaurant Kitchen and LPG storage room

Sensing Method

Catalytic bead

Operating temp

-20 ~+50 degree Celsius

Power Voltage

AC220V 50Hz, 1.3W

Operating Humidity

0 to 90% RH

Output power

NIL

Power lamp

Green Colour

Detection range

LP gas, Natural Gas 0-100%

Visual Alarm

Flashing Red LED light

Detectable gas

LPG, NG, Propane, Methane and Butane

Audio Alarm

Intermittent alarm sound 70dB at 1m

Dimension

110(L) X 70(W) X 37(H)

Recovery time

Automatic Recovery

Case material

ABS plastic

Approval

CE Mark
Terms and Condition of usage:
Securitex Electronic Systems Engineering cannot be held responsible for any results arises from the usage of this product or product failure to perform as per its function. Owner use at own risk. It is highly recommended to replace the unit every 5 years of use. Do not rely solely on this product for your fire related protection. We recommended that periodic testing to the device to ensure that it is in good working condition, after each testing its good to indicate the date / time and condition.
Specialized in industrial security, safety and automation for refinery, oil & gas, aviation and marine facilities
Securitex Electronic Systems Engineering
Block 9010 Tampines Street 93 #04-145 Singapore 528844 Tel: 67852171 Fax: 65850107 Email: sales@securitex.com.sg