---
ORIGINAL CARD KEY LOCK
The original Card Key Lock was actually a Card-Operated electric switch and there is less demand for these models today in security industry however as this system card key is almost impossible to duplicate very high security installation is still using them.
HOW TO ACTIVATE AN ELECTRICAL LOCK
Just need to inset the programmed CORKEY card into the card reader this action will actuate electric door releases; automatic doors; for elevator control to selected floors or to call the elevator to a floor and for vehicle entry through gates or into garages.
WHY IS THIS SYSTEM SO DIFFICULT TO DUPLICATE (ALMOST IMPOSSIBLE)
This locking system is almost impossible to duplicate as the system is world wide discontinued and no longer in production and circulation. Only very old or vintage lock smith that still around and carry the system programming kit, the CORKEY tooling and the knowledge on the Re-keying and programming of the CORKEY card can do it.
SINCE THIS LOCKING SYSTEM IS OBSOLETE WHY IS SECURITEX STILL ABLE TO PROVIDE SUCH SUPPORT SERVICE.
Securitex started it business in 1997 and Mr David Tan was the founder. CORKEY was the first card operated locking system he work with together with the inventor in 1990. When the CORKEY locking system started to be replaced over time by the electronic card access system, SECURITEX acquired all the parts & stocks in Singapore and kept it as CORKEY exit Singapore.
SYSTEM & PARTS SUPPORT
As we have most of this spare parts now we are thus able to support existing user.
WHAT OTHER TYPE OF DESIGNED IS LINK TO CORKEY
CorKey provides many types model and designed with many type of integration such as: Round Housing model 300S for surface mounting through the walls and the Model 301 for mounting on the surface of a wall (both pictured) and other switch locks for Energy Saving in hotel rooms, Flush mounted into a wall and Post mounted for vehicle entry control. We also have CORKEY system mounted on SAFE etc.
ARE THERE STILL USER USING THE CORKEY SYSTEM.
Yes there are still many hotel around the world still using the CORKEY system and usually this hotel are the smaller 100-400 rooms type.
IF WE LIKE TO INTEGRATE THE CORKEY TECHNOLOGY WITH OUR EXISTING LATEST TECHNOLOGY ACCESS / SECURITY SYSTEM WHO CAN WE APPROACH.
You can let SECURITEX know what kind of integration you need and we can advised you accordingly.
WILL THERE BE A SITUATION WHERE MID WAY THE CORKEY RUN OUT OF SUPPORT.
Every technology in the world has a END OF LIFE situation and can run out of support even the new technology. CORKEY is an obsolete technology so this is also and absolutely possible. HOWEVER if you are our existing user we will keep you up-date when that time comes also if we are going to drop the support for whatever reason we will keep you posted and will even ensure you have enough spares in your inventory. As long as there are parts and there is some one willing to continue to provide support we can assure that we will try to provide continue support to all our customer.
WE ARE NOT YOUR EXISTING CUSTOMER CAN WE GET SUPPORT FROM SECURITEX
Absolutely yes but priority is given to existing user due to limited resources.
WHERE CAN WE LOOK FOR SUPPORT
You can just write in to SECURITEX ELECTRONIC SYSTEMS ENGINEERING. SALES@SECURITEX.COM.SG
Below is the other type of CORKEY
The following images show the type of CORKEY locking system.
The 700S system was use in most wooden door as show. The Reader Module on the right will read the CORKEY Card and allow the knob or handle to be turn to open the door.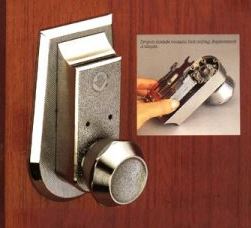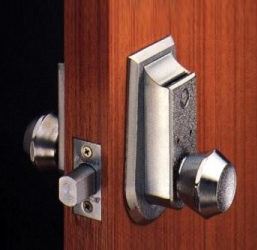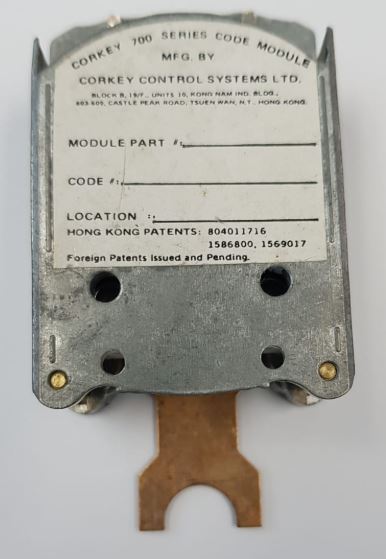 Below is the 300S system and this kind of CORKEY reader are use mostly in Electrical Locking Area like Carpark Access. Elevator Control and Even hotel doors and Energy Saving switches.
CORKEY 301 ELECTRONIC INTEGRATION VERSION FOR ELEVATOR AND CARPARK USE.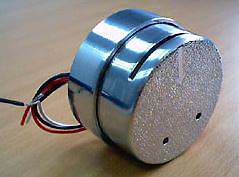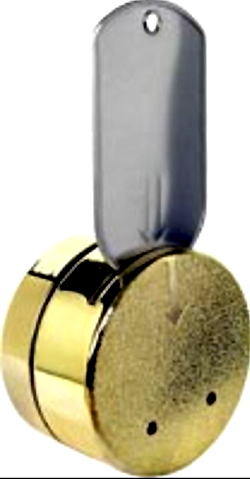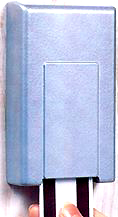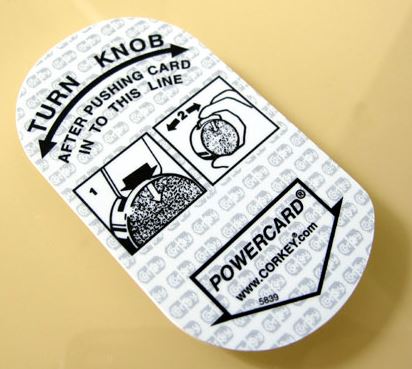 MODEL 301:
•
Mechanical code lock needs no power, fail safe!
•
Internal Corkey card reader accepts only valid Corkeys.
•
Protects against unauthorized entry.
•
Prevents misuse of system or equipment.
•
World teacher in mechanical card access control systems.
Case cannot be opened unless valid card inserted due to mechanical interlock feature.
Mounts directly on surface, or on electrical junction box in wall.
TriSec™ variable code feature available for instant code changing to 15 other codes from outside the case.
Can be used in system with other CORKEY locks: Model 1,300 series, 400 series, 500 series and 700 series.
Case has space inside for: Custom designed circuit boards for special uses:
Alarm Control circuits; or other types of switches or relays.
Available with switch either alternate action (push card in for "ON" push again for "OFF) or momentary action. Hold in card for either "ON" or "OFF" depending on wiring of switch.
Uses stainless steel or plastic CORKEYS.
EXAMPLE OF CORKEY INSTALL IN ELEVATOR FOR CONTROL OF FLOOR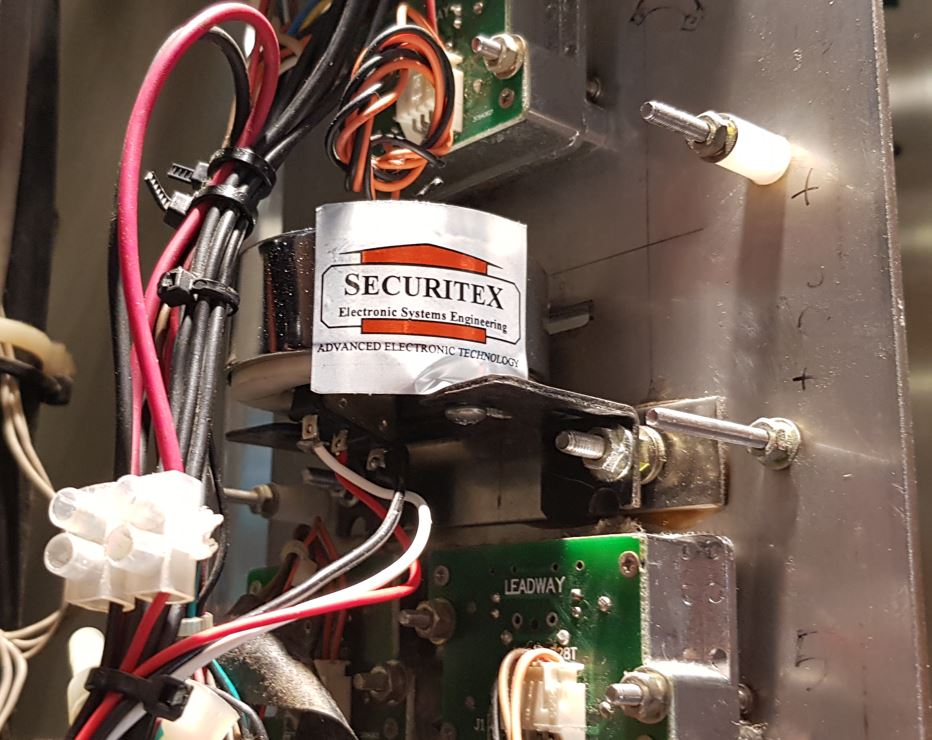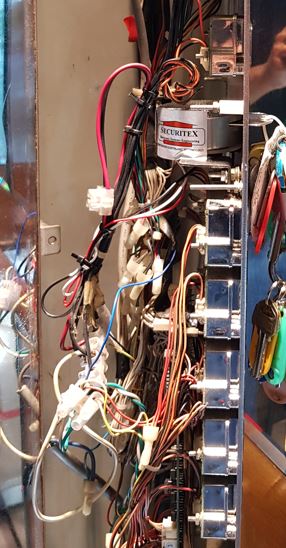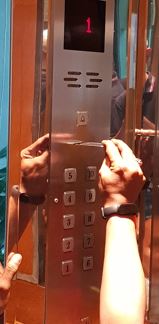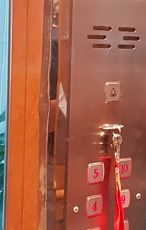 KEY-IN-KNOB LOCK (KIK)-SERIES
Below show how the existing round handle locks can be retrofit with the Corkey Key in Knob model Series and how it is install on existing round knob door lock, there are also the dead bolt type. This are some of the different type of usage on the different setting.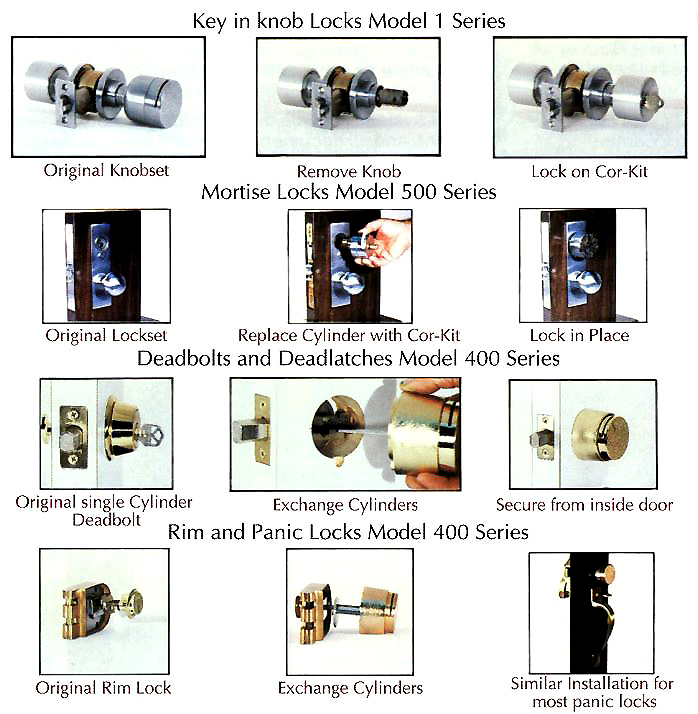 CORKEY Stainless steel & Plastic version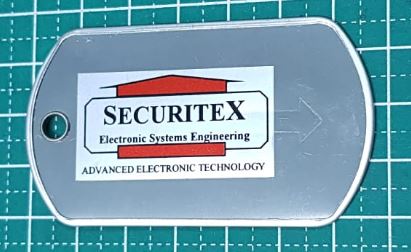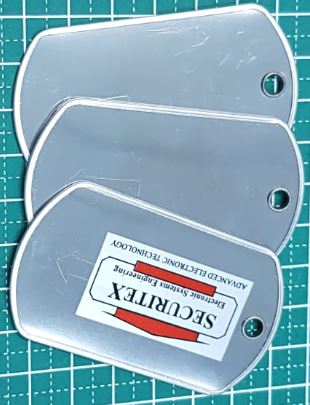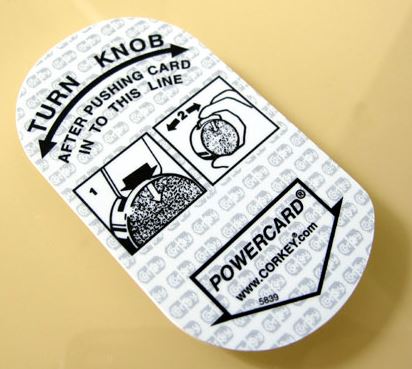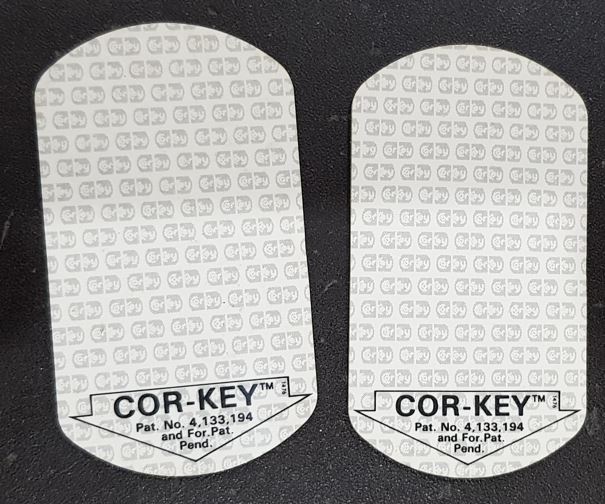 Basically the CORKEY CARD come in 2 type. The Stainless Steel version (left with SECURITEX) and the Plastic version (right-white). The method or code programming is same. Same coding characteristics as stainless steel keys using the same cording machine from the CORKEY Master coding kit (CMCK) . This card can be custom printed and numbered. Excellent for Hotels, Condominiums, Club etc. Fit credit card wallets.
CORKEY Master coding kit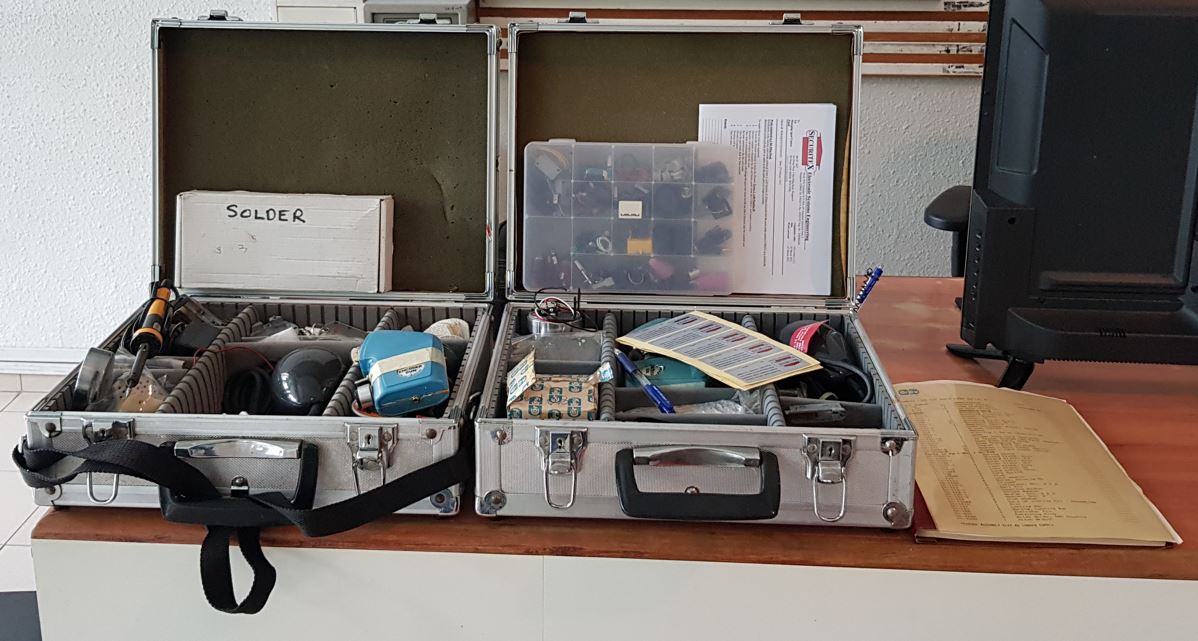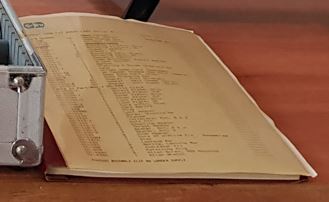 Coding Equipments: Coding manual with Large Encoding and Re-Keying Kit contains all tools and fixtures needed to code CORKEY and change codes in CORKEY locks. Complete with self-teaching Instruction Book, Code Format Cards and Spare Parts. All Factory Turnkey Master keyed Systems include this Kit plus complete coding documentation so you can take it from there, encoding, CORKEY and changing lock codes as needed.
CORKEY XTRONIC 3000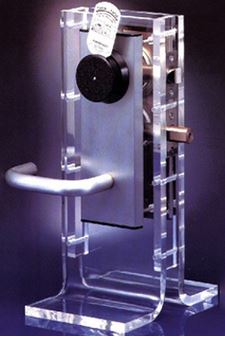 The Proven Technology of Automatic Code-changing by the simple insertion of the next POWERCARD™, in a handsome lockset that exceeds requirements for use by the handicapped. The Technology Breakthrough Continues with "Xtronic 3000" Lever handle automatic code-changing locks including all superior features of the "Xtronic 2000" Card-operated cylindrical locksets: Geo-Magnetic POWERCARD directly operate Xtronic Locks. Lost Cards voided as next POWERCARD inserted. Card that changes the code continues to operate new code. Master-keying capability: A Million Locks, A Single Master. Each with a unique series of 16 Auto Code-Changes. 20 or more levels of Mastering. POWERCARD coded in-houses for complete System Control. Latch Model installs in standard cylindrical lock door holes. Hotel Function has double lock, "E" key, and lost Master replacement.
CORKEY XTRONIC 2000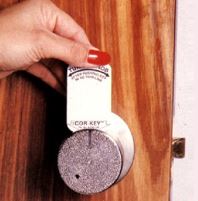 Xtronic CORKEY Control System
Looking for a guest room lock that changes its own code when a new card is used? -No Need for Costly Electronic Locks, the Astounding XTRONIC 2000™ by CORKEY Control System does it at 1/3 the Cost! But, a handsome, heavy duty proven lockset with full Hotel Lock Function including; privacy lockout, override by Emergency Card and full Master keying to your requirements.. PLUS Instant Lockout of LOST Floor Masters. Each XTRONIC 2000 lock contains a specific room code and in addition, accepts a recycle sequence of Guest cards. As each new card is inserted in the lock by a Guest, the lock recognizes the changed code and automatically resets its code to match the new card, locking out previous cards. Instant Code Changing by POWERCARD™ Previously only sophisticated and costly electronic computerized locks could change their code when a data card was inserted but as CORKEY cards contain sufficient power to directly actuate their locks, the XTRONIC 2000 POWERCARD alone powers and programs the XTRONIC 2000. This makes the XTRONIC 2000 System affordable by All Hotels and Motels. It is excellent for replacing existing locks as installation by hotel staff can take less than 5 minutes a door.
CORKEY TRISEC VERSION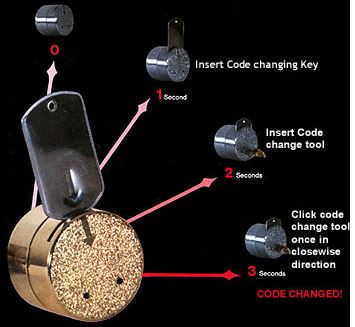 CORKEY Locks
CORKEY Locks 3 Seconds to change codes from OUTSIDE the lock. Each CORKEY lock contains 3 independent codes. Two of the codes can be changed many times without disassembly of the lock. These are the "Variable Codes" the third code determines in which Building, Floor, and Door the lock is located. You can also change this internal code. Buildings with hundreds of locks can be re-coded by simply walking to each door and changing the variable code. No new keys to buy…simply re-validate EXISTING valid keys to the new code. Little inconvenience to Tenants, Employees, Guests, or yourself. You can change codes periodically, monthly, quarterly, yearly, or whenever necessary.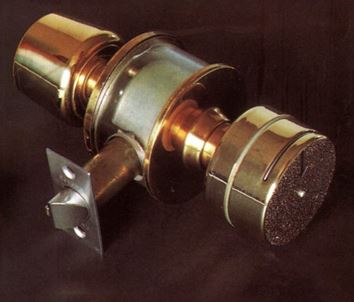 TRISEC HEAVY DUTY CYLINDRICAL LOCKSET
Heavy Duty Cylindrical Locksets with CORKEY lock as the front knob. Inserted CORKEY CARD is held-in and turning the knob in either direction unlocks the door. Card Slot returns to original position when card removed. Slot can be positioned at top, bottom or to the side. Fits standard door holes. Replaces similar types of locks in 3 minutes. Available in several finishes and lock Functions: Model 800 Hotel; Model 801 Entrance/Office; Model 802 Storeroom and Model 804 Classroom. General Features: Door automatically locks when closed Card hold-in Slot returns to insertion position Inside knob always opens door Slot can be positioned at top, bottom or to the side Uses invisibly coded stainless steel or plastic CORKEY cards Very large master-keying capability Only 3 seconds to change "TriSec"™ codes from outside the lock Deadlocking latch back-sets: 2 3/8" (60 mm), 2 ¾" (70 mm), 5" (127 mm) Various functions and finishes Simple installation Recommended Applications: Offices, Cabins, Other High Security Zones.
CAN THIS CORKEY CONTROL SYSTEM BE USE WITH THE NEW ELECTRONIC ACCESS CONTROL SYSTEM.
Yes it can be integrated as long as parts are still available, SECURITEX has the capability and know how to integrated this CORKEY Systems Technology with the new access card system. This kind of integration will create a system that is almost impossible to break into or compromised as the CORKEY Systems Technology are now only confined to a few Security Company in Singapore and some parts of the world and is limited to the parts and knowledge know how.
CORKEY Video Presentation 14.4 MB (View this presentation you will need the Windows Media Player) This presentation is from the inventor, creator and founder of Corkey Control Systems.
http://www.securitex.com.sg/presentation.WMV
CORKEY_CONTROL_SYSTEMS_DESCRIPTION_presentation_2021
---
@ 1997 to 2022
Supply and marketed by: Securitex Electronic Systems Engineering. http://www.securitex.com.sg
Block 9010 Tampines St 93 #04-145 Tampines Industrial Park A Singapore 528844 Tel: +65 67852171 Fax: +65 65850107
---