---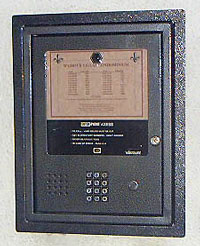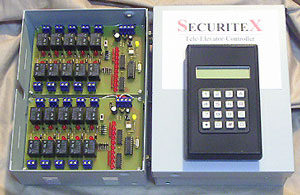 Enterphone Axess tele-entry system/ Elevator control 25 floors exclusively
---
The Enterphone Axess is an incredibly economical telephone entry system for any building up to 1000 suites, the enclosure is called the Centurion. For the additional benefits and features of the Enterphone Axess we have included an Tele-Elevator-control "E-levatex-8" to allow the resident to control the elevator to their floors from the home phone or mobile after receiving the call from the Enterphone Axess panel. This process is done without laying a single cable from the unit to the lift motor room.

The Enterphone Axess combines rugged design, heavy gauge steel construction and special epoxy coating to create a highly vandal resistant product. A fully sealed weather-resistant panel makes the Enterphone Axess an excellent choice for a wide variety of interior and exterior applications. Some of the system that are install 10 to 15 years ago are still operation like new.

A strong, reliable and affordable entry system is a vital element of your all residential or commercial building security inclusive of the elevator. Enterphone Axess with E-levatex-8 provides added security and communication along with reliability and flexibility for the entrance to the lift lobby as well as the elevator.
<![if !supportEmptyParas]> <![endif]>
Key features
Standard 1000 user capacity

Personalized security codes for keyless entry

Integrated 150-name directory

Non-volatile Eeprom memory

Touch tone or rotary phone compatible

Remotely programmable

Multiple door capability

Built-in postal lock switch

"In use" Light (LED)

Adjustable volume control

Up to 16 units on one phone line
Programming Features:
Voice mail capability

Programmable to dial from 1 to 14 digits

Programmable talk time from 0 - 900 seconds (15 minutes)

Variable programmable directory code from 2 - 5 digits

Programmable relay activation time from 0 - 900 seconds

Programmable ON/OFF background "beep" to indicate call from a visitor
Security Features:
Muted tones during dialing

Blocks DTMF tones through microphone once voice path established

"3 strikes you're out" feature for tenant security codes and programming codes
Optional Features:
Matching directories and flush mount kits available

Optional built-in camera Vandal Resistance

Superior, heavy-gauge steel construction

Epoxy-coated finish resists fire, scratching, chemicals

Secured LED display for programming data

Die-cast zinc, chrome plated, paint filled keypad

Weather-resistant, sealed construction

Double aircraft-type directory window
<![if !supportEmptyParas]> <![endif]>
Elevator control:
Using the E-levatex-8 developed by Securitex Electronic Systems Engineering to interface with the Enterphone Axess, the resident can used the home phone or the mobile phone to control the elevator to their exclusive floors

Optionally the E-levatex-8 can be deployed to control multiple door in the building, similarly from the normal phone or mobile.

Absolutely no cabling between the resident unit to the facilities to be controlled.

The E-levatex-8 can be used to control elevator up to 75 floors (Above 100 floors please indicate at time of order)
To know more about this product please visit us following Link
http://www.securitex.com.sg/Securitex_Tele_Elevator_Exclusive_Floor_Tele-Controller_2006.htm
SecureCiti International is a subsidiary of Securitex Electronic Systems Engineering
Block 9010 Tampines St 93 #04-145 Tampines Industrial Park A Singapore 528844 Tel: +65 67852171 Fax: +65 65850107 Reg. No.: 52838264X