Securitex Elevator Security division
---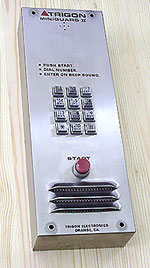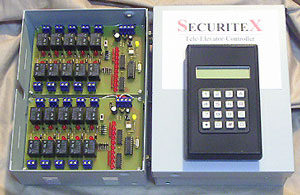 Trigon Miniguard II tele-entry system c/w Elevator control 25 exclusive floors controller
---
The Trigon Miniguard II is a hands-free, multi-number, telephone entry system for resident/visitor control. Visitors contact the desired tenant by entering a simple directory code. The resident then grants or denies access.
Access control system
The resident can utilize keyless entry by using the individually assigned access code entered on the Miniguard's keypad.
PC link and interface
TrigonLink programming software is available for direct RS232 interface or optional modem interface.
System Capacity
The Miniguard II has a capacity of up to 400 telephone numbers and up to 400 personal entry codes. (Option range are 25, 50, 125, 300 and 400)
Material and construction
It is constructed for rugged outdoor use, yet remains pleasant in appearance. Its long-lasting brush-finish stainless steel housing complements its thin design lines.
Flush mounting
A matching flush-mount trim-ring or lighted hood may be selected to add the right finishing touches to an installation.
Optional Control
The Miniguard II is equipped with valuable features and options that provide a wide range of guest and resident control options-doors, gates, security lighting, elevators and more.
Advantage of using the Trigon Miniguard II system and specification.
Provides resident controlled guest access for apartments.

Allows secured entry for office buildings.

Assures privacy for condominium owners.

Allows positive entrance control in gated communities.

Low profile 4.2" door mullion width.

12 volt AC or 12 volt DC powered.

(1) 5 amp form "C" dry contact relay.

ADA compliant keypad.

Supports all Weigand 26 bit protocol.

400-unit capacity (24, 50, 125, 200 or 300 also available).

Full duplex communication.

12"H x 4¼"W x 2"D.

#316 wraparound stainless steel.

Capacity includes telephone number, directory code, and direct entry code for each resident.

Up to 12 digit resident telephone numbers.

Rotary or touch-tone compatible.

Programmable site ID

Remotely programmable from any touch-tone telephone. (Not recommended for resident capacities over 24)

Optional

Second relay option

Optional

Black & White or Color Camera Options *needs additional mounting device

Optional

Small Flush Mount Back-box

Optional Lighted Hood

Optional

TrigonLink Software & Modem

Optional

support of various card readers.

Optional

7-day clock allows the creation of automatic unlock schedules.

Optional

printer support allows recording events as they occur.

Optional

Miniguard II offered as a Miniguard Kit
Elevator control:
Using the E-levatex-8 developed by Securitex Electronic Systems Engineering to interface with the Trigon Miniguard II system or the Trigon range of product will instantly transform this system to become the first telephony system in Singapore to activate the elevator to exclusive floors of up to 75 floors. The resident can used the home phone or the mobile phone to control the elevator to their exclusive floors

Optionally the E-levatex-8 can be deployed to control multiple door in the building, similarly from the normal phone or mobile.

Absolutely no cabling between the resident unit to the facilities to be controlled.

The E-levatex-8 can be used to control elevator up to 75 floors (Above 100 floors please indicate at time of order)
TrigonLink Software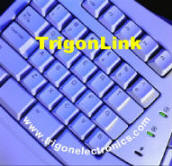 Trigon's TrigonLink™ software provides a convenient means of remote PC programming of compatible supported Trigon telephone entry systems. TrigonLink™ software allows upload and download capability of site parameters, resident file information, and access log retrieval.
IBM PC compatible

Requires Windows 95 & 98

Written with InstallShield® wizard for installation

Allows fast uploads of "changes only"

Connects via modems

Allows direct connect via RS-232

Allows off-line data entry of resident names and numbers

Allows saving of complete resident file on disk
Note:
Due to client request and demand we will be able to develop and customize special interface to suit the individual site and project requirement as such if you have any special request which you requires please let us know.
To know more about this power pack product please feel free to contact us at:
---
© 1996 - 2014 Securitex Electronic Systems Engineering. All rights reserved.
SecureCiti International is a subsidiary of Securitex Electronic Systems Engineering
Block 9010 Tampines St 93 #04-145 Tampines Industrial Park A Singapore 528844 Tel: +65 67852171 Fax: +65 65850107 Reg. No.: 52838264X