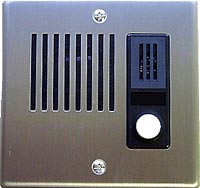 IP Intercom Extension Call Station 2 wire
Description: Aiphone External Call Station with microphone and speaker for use with EWST IP Intercom units.

These units must be used in conjunction with a GC-IPIC-EWST-xxx unit

Features:
Brushed aluminum face plate
Green LED to show unit is active
Provides a sleek, professional look with no exposed wires
Excellent for use in a door entryway, vestibule, meeting room, classroom or any public area
Flush mounts in 2-gang electrical box
Wires into GC-IPIC-EWST-xxx model using standard 2-conductor cable, non-twisted, 22AWG or 18AWG (not supplied).

IP Intercom Vandal Resistant Call Station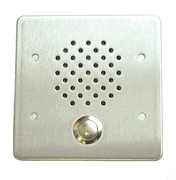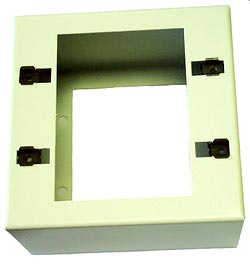 Back Box for vandal Resistant Call Station
Description: Quam correctional grade analog 2/3 wire Call Station unit. Vandal resistant, weather resistant, external Call Station with pushbutton microphone and speaker. Ideal for external use near a door or gate. For use with EWST IP Intercom units.

These units must be used in conjunction with a GC-IPIC-EWST-xxx model

Features:
11 Guage brushed stainless steel, plus security screen speaker protection
Designed for Correctional and other security applications
Moisture resistant speaker and microphone
Flush mounts in standard 2-gang electrical box
1" x 8-32 "Button Head Pin-in-Hex" Security Screws with special tool supplied
Special hardened "Backer Box" available for surface mount applications

Description: The Back Box for the Quam Vandal Resistant Call Station provides a box for surface mounting when flush mounting is not available. The back box has four sliding tabs that accept the vandal resistant screws that come with the Quam Call Station. It also has four mounting holes for surface mounting, and a large cut out in the back so that positioning over incoming wiring will not be a problem.

Features:

Cold Rolled Steel .060 thick
Attractive White Baked Epoxy Hybrid Finish
Accepts GC-IPIC-DOOR-QM4 Door station
IP Ethernet TalkMaster Intercom LE Software included with purchase of IP intercom units PC windows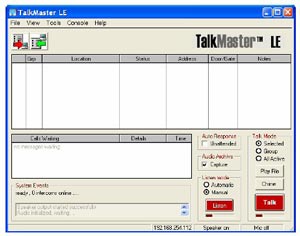 Description: The TalkMaster Software is included with all purchased units. TalkMaster allows you to use the PC as a master station and/or to configure your IP Intercom units.
Features:
Audio access and management of IP Intercoms
Selective or Master call to page stations
Master control and auto detection of stations
Utilizes PC microphone and speaker
International language support
Remote Door Release
Audio file playback (WAV)
Integrated Audio Recorder for logging
Supports Multiple Console operation
ActiveX Software available for custom applications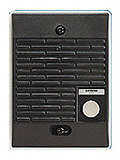 Aiphone IP-EWST: IP Addressable Intercom Adaptor
Unit Description
The IP-EWST offers voice-quality Intercom function over TCP/IP based networks. Designed specifically to integrate seamlessly into a new or existing LAN / WAN infrastructure, the IP-EWST is capable of hundreds of stations, fulfilling a large variety of applications including commercial, industrial, and residential access control; general security, office, and institutional intercom / paging, and many more. Power over Ethernet (PoE) capability is also supported (IP-EWST-POE only), allowing greater installation flexibility for both new and retrofit applications.
Hardware Features
IP-EWST Intercom over Internet is a cost effective PC based communication it consist of one adaptor per station and unlimited system size. It is Compatible with all Aiphone LEF and IE series door stations. Compatible with Aiphone AH-108 or any 8 ohm speaker. Works with standard wired and wireless networks (LAN/WAN). Digital audio recording and playback capability. Field Upgrade OS using internal Flash Memory. Relay output for remote release (N/O and N/C) with programmable timer. Hands-free listen at sub end. Duplex or push-to-talk operation to door/sub station. Keyboard or mouse control. Call forwarding to additional PC'S. Call queuing. Group or all page capability. Audio and visual call notification. Transfer to back-up PC. Customizable audio notification (using WAV file)
Three sets available. Each set features a different quantity of door stations and adaptors. All sets include the appropriate software and power supplies for system functionality:
| | | |
| --- | --- | --- |
| IP-EWST-1 | IP-EWST-4 | IP-EWST-8 |
| Model Qty :LE-D 1, IP-EWST 1 | Model Qty: LE-D 4, IP-EWST 4 | Model Qty: LE-D 8, IP-EWST 8 |
Software Features includes:
Duplex or Push-To-Talk operation to door/sub station. Keyboard or mouse control. Fail forward calling to additional PC'S. Call Queuing. Group or all page capability. Audio and visual call notification. Transfer to back-up PC. Customizable audio notification (Using WAV file)
Hardware Specifications

P-EWST Intercom over Intercom

Input Voltage: IP-EWST – 7.5-9VDC, 300mA, use included power supply

Software System Requirements

Compliant: IP-EWST-POE – IEEE 802.3af compliant

For optimum performance, TalkMaster™ requires a minimum of the following:

Operating System: Microsoft Windows® 98SE, Windows ME, Windows NT® (SP6), Windows 2000, or Windows XP. Processor: 750MHz or faster. Memory: 128MB of RAM (256MB recommended). Sound Card: Windows supported sound card (with speaker and microphone)

Network Interface: 10/100 Base-T Ethernet (Auto detection) RJ-45

IP Assignment: Static or Dynamic via DHCP

Hardware Protocols TCP, UDP, IP, ARP, ICMP, Ethernet MAC

Transport Bandwidth: »80kbps per TCP/IP session

LED Indicators: Active, Link, Talk, Reserved / Programmable

IP-EWST Intercom over the internet

Product Name: a. IP-EWST. (Also IP-EWST-POE). b. IP-EWST/EWSTPOE. (Cover removed). c. IE Door Stations LE-D LE-DA. d. LS-NVP/B LE-SS LE-SSR AH-108 LE Sub Stations

Audio Resolution: WAV, PCM-8 and uLAW-16 bit

Audio Sample Rate: 8kHz

Audio Buffers: 4kb transmit and receive

Audio Latency: Target delay < .5 sec. Typical delay » .3 sec.

Output Amplification: Maximum 2W @ 4Ω. Actual determined by sub

Operating temperature: 32°F to 158°F (0°C to 70°C)

Dimensions: 6-3/4˛H x 4-1/8˛W x 1-3/4˛D
Literature Available
The above information is the copyright material of Aiphone Corporation - All rights reserved.
Securitex Electronic Systems Engineering
Block 9010 Tampines St 93 #04-145 Tampines Industrial Park A Singapore 528844 Tel: +65 67852171 Fax: +65 65850107