SECURITEX Remote Control locking system
TC-102S is the only electrical battery operated lock that cannot be seen from the outside and there is no keyhole to pick, making it one of the most secure e-lock ever developed. However if you ever worry that if the battery is flat you will not be able to open the lock. Be assure that this cannot happen as when the battery is low the lock system will keep beeping till a new battery is change. Furthermore there is a backup battery inside that will allow a one time open of the lock if the battery totally drain.
The only e-lock that cannot be open from the outside by picking
The Leader in Cyber Locking Technology
The SECURITEX Guardman TC-102S locking system is one of the most innovative locking system in the world ever develop by a group of professional electrical and mechanical engineer together with locks smith from Korea. This locking system is so robust and elegant that it can be used in any kind of interior deco. This lock can be install on wooden, metal and even glass sliding as well as swing door. As the Guardman TC-102S uses a remote control to open and lock the door, thus it is very convenience to open the door even from a distance. Guardman TC-102S can be install together with any home automation system. It truly is one of the most innovative systems in the world
Born in 1998 with patented technology (PAT. No. 263981), Guardman TC-102 is a door lock system in which security, economy, convenience, and reliability are embodied.
As it employs a remote controlled operation and needs no key hole, nobody can see if Guardman TC-102 is installed on the inside of door. Furthermore Guardman TC-102 does not make it a must to dig a deadlocking hole into door frame as most locks do, so you can easily install it yourself. Moreover, as it can be easily switched to both left-handed and right-handed by just pushing a switching lever inside the lock, you can use Guardman for your doors whichever hand your door are. In addition as it has no complicated electrical lines, you can easily reinstall it when you move.
These benefits, guarantee excellent security and economy for you, made Guardman TC-102 accredited with European CE mark. And in 2004, these excellent functions enabled Guardman TC-102 to pass the challenging test for exporting to Japan. Now, Japanese customers are enjoying the second-to-none security, reliability, economy and convenience of Guardman TC-102. America, Europe, S.E. Asia, and China as well as Middle East will follow Japan in the very near future.
Along with these achievement, new Guardman TC-102 series will be introduced in attempting to keep pace with the rapidly changing lifestyle trends. So you will be able to experience the excellences of new models such as cellular phone-controlled model and those for fortified glass door and safety box.
Invisible and intelligent door lock, Guardman TC-102 - this must be a best choice for whoever seeks both reliability and economy.
Maximum Security
Excellent Economy
As Guardman has no sign of installment on the front side of door such as key hole, no one except family members can notice and open Guardman. Moreover, itís 1/3,200,000,000
password guarantees maximum security back up

Guardman offers reasonable price and easy mounting and dismounting, which means you can easily reuse Guardman when you move. Also, Guardman is available for both left-handed and right-handed door.

DIY - Easy to install
You can install Guardman yourself. It is not necessary to make a locking hole in door frame - which requires professional service, cost much time and money. Guardman needs only 7 screws.
Good Convenience
Best Reliability
As Guardman is remote controlled, you do not need to go to door whenever you open and close the door. This remote control function is quite convenient especially in case you carry heavy items and at night. In addition, you can open and close many Guardman with only one remote control, if you install more than one Guardman TC102S at your home and/or office, shop or warehouses etc.

Guardman's reliability is verified by various certificates including Korean Patent (Patent No. 263981), CE, and American Home Insurance Policy, etc. You can be assured with Guardman's best reliability. Korean leading mass media including Arirang TV acknowledged it in its prime programs.
| | | |
| --- | --- | --- |
| No | Description | Specification |
| 1 | Model | TC-102S |
| 2 | Colour | Titanium |
| 3 | Power source | DC 6V AA (Batteries) |
| 4 | Remote control distance | 25 meters |
| 5 | Low voltage detection | Time to replace batteries |
| 6 | Remote Controls Provided | 4 each PC 12V A27 (6 to 10 can be added) |
| 8 | Specification | 96.5(W) X 200.5(H) X 45.5(D) mm |
| 9 | Temperature | 30 to 70 degree C |
| 10 | Warranty | 12 months from date of purchase |
| 11 | Material | Aluminum Casting |
| 12 | Remote duplication | Impossible |
| 13 | Keyhole exposure | No exposure what so ever out side door |
Various Parts of the system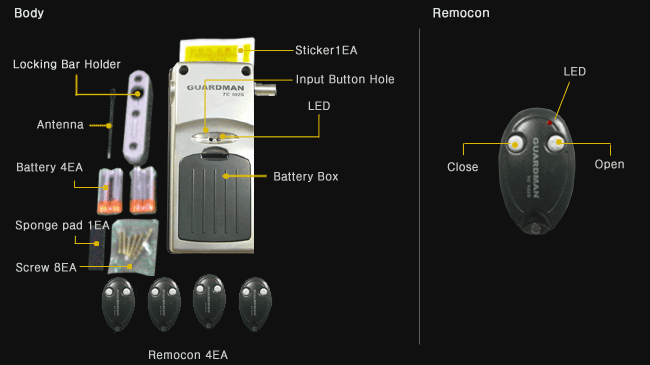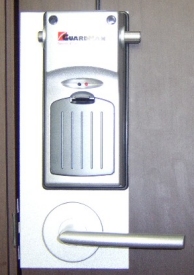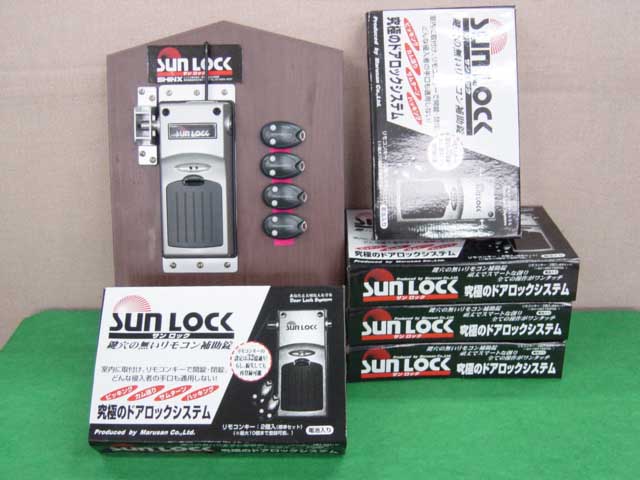 Korean Domestic Model TC-102S Door handle combination(TC-102C)
Japan Export Model TC-102J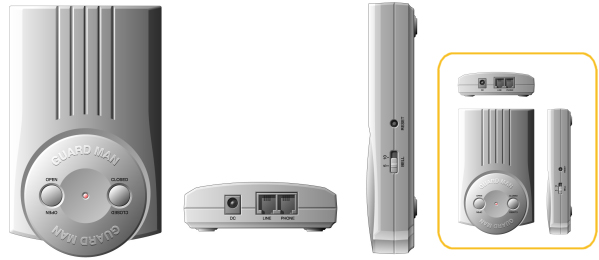 Telephone-Controller Devices TC-102T(optional)
How to Install Guardman

1
2
3
4
5
6
7
8
9

Test the operation
( Buzzer sounds 1 time when opening; 2 times when closing)
How to Change Password

1
2
3

When all inputs are finished, LED lamp gets out in 10 seconds and the buzzer sounds 1 time.

Note: Password is inputted as default when Guardman leaves product line. So you do not need

to input password.
Only in case you lost Remote transmitter and change Remote transmitter or add new Remote Transmitter to the original 4 Remote transmitters, you need to change password according to

the above mentioned procedure.
How to Change Batteries

1
2

note)
If batteries get weak, buzzer sounds 5 times whenever you use the Remote control. In this case, you had better change batteries. Otherwise, buzzer sounds 10 times when batteries get weaker. At this time, you must change the batteries immediately
FAQ

1
When battery should be changed?
Normally, battery lasts about 6 months. When battery gets weak, Guardman reminds you that it's time to change battery.
2
How can I know it's time to change battery?


If batteries get weak, buzzer sounds 5 times whenever you use the Remote transmitter. In this case, you had better change batteries. Otherwise, buzzer sounds 10 times when batteries get weaker. At this time, you should change batteries immediately.

3
If others picked up my lost remote transmitter, how can I respond?


Just change your password then the lost remote transmitter can not open your Guardman. For changing Password.

4
How many remote transmitter can be used per Guardman?


Up to 10 remote transmitter can be used.

5
When the remote transmitter battery should be changed?
The remote transmitter battery lasts about 2 years. If the battery gets weak, the LED on remote transmitter gets dim. If so, please contact us or the dealer who sold Guardman.
6
I installed Guardman at home and office respectively. Should I use different remote transmitter respectively?
No! you can use only one remote transmitter for both Guardman at home and office. Just change password to one of two Guardman. For changing Password.
7

Buzzer sounds 4 times. What does this mean?


This is a kind of error message. This means locking bar and locking bar holder do not dovetail each other, making locking bar caught on holder. This is due to poor installment. So, please reinstall holder.
Certificates for TC 102-S

Many certificates including CE, Korean Patent, etc. verify the outstanding competencies of TC 102-S.
Also, Many prestigious government agencies such as Small and Medium Business Agency guarantee the excellent reliability and functionality of Guardman TC 102-S.

CE Mark

American Home Insurance (Amount: 200,000,000won)

Korean Patent No. 0263981
To purchase the above equipment please call or email to sales@securitex.com.sg or contact Securitex Electronic Systems Engineering
---