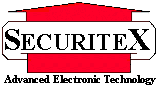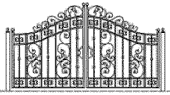 Securitex Electronic Systems Engineering (Auto gate Division)
Block 9010 Tampines St 93 #04-145 Tampines Industrial Park A Singapore 528844 Tel: 67852171 Fax: 65850107 sales@securitex.com.sg
844 sliding gate system for up to 1800kg gate
Note: The FAAC 844MPS is and obsolete model, this model now replace with FAAC 844ER

Mechanical safety ELECTRONIC SAFETY FOR RESIDENTIAL and industrial APPLICATIONS
Our special twin-disc anti-crushing clutch that runs in an oil bath, enable the thrust to be adjusted from 0 to 190 daN on the three phase version combined with an intelligent electronic device that is able to detect the presence of an obstacle immediately, reversing with the gate when it's closing and stopping it when it's opening.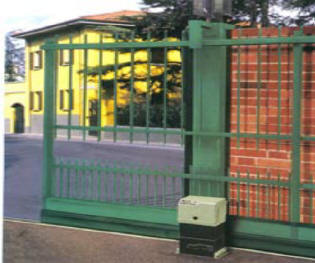 The guarantee of experience
Continuous technological development building on thirty years leadership is your guarantee of an inimitable product.
The strength for industry
The 844 operator has been designed to provide the simplest, most cost-effective solution for moving even the heaviest gates in commercial or industrial application.
MOVING WITH INNOVATION
Every control signal comes from a leading edge microprocessor for the ultimate in safety and reliability. The stopping distance of the gate can be electronically programmed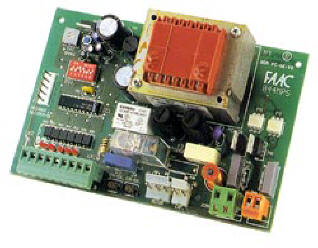 FAAC 844 MPS Controller board (Discontinued) replaced with FAAC 780D
CONSTANT SMOOTH RELIABILITY
The 844 motor and gear unit delivers smooth performance at any latitude and in every operating condition.
MAXIMUM DURABILITY FOR A LONGER SERVICE LIFE
Constant lubrication of the mechanical components, which are all mounted in an oil bath and assembled in a single high-strength die-cast aluminum casing, ensures a very long service life.
COMPACT GOOD LOOK FROM EVERY POINT OF VIEW
The electronic equipment is housed in the gear motor for easier, faster and more economical installation. The compact size of this unit makes it ideal for residential applications.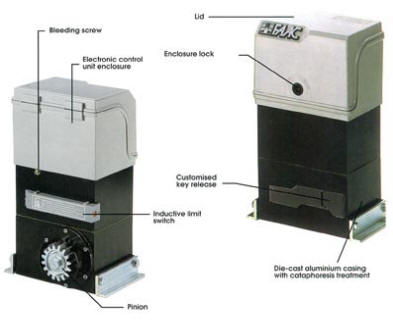 FAAC 844 motorized unit (Discontinued) replaced with FAAC844ER
QUALITY IS IRREVERSIBLE
The fact that the gear motor cannot be reversed makes it unnecessary to install electric locks. While the release device enables the gate to be opened and closed manually in the event of a power failure, This device is also available with a customized key.
MAINTAINS ITSELF AS IT MOVES
The reliability of FAAC technology means that practically no maintenance is needed.
OPEN SERVICE, PROMPT SOLUTIONS
You can rely on constant, prompt service with expert answers to all your needs from FAAC's extensive service network of qualified installers.
PASSPORT TO EUROPE (CE)
FAAC products comply with European Directives applicable to the gate and door automation sector and are certified by and accredited laboratory.
TECHNICAL SPECIFICATIONS (Control unit 844 MPS)
Power supply: 230 V - (+6% -10%) 50 (60) Hz. SMT technology Programmable functions: Four operating logicís A1-E1-S1-S2, Pause times, Pre-flashing, Braking trimmer. Maximum motor load: 650 W. Accessories power: 24 VDC 500 mA max. Ambient temperature range: -20degree Celsius to +55 degree Celsius. Housing Protection: IP55. LED's for: inputs and limit switches Three protection fuses transformer 0.25 A (SMT), motor 5 A, accessories 1.6 A Output terminals Warning light, lamp Input terminals Open, stop, safety devices Quick connectors for Motor, capacitor, limit switch, card receivers / decoder cards Reset button Electronic obstacle detection sensor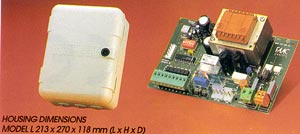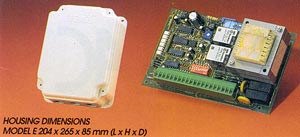 TECHNICAL SPECIFICATIONS (844 BC)
Power supply: 230 V - (+6% -10%) 50 (60) Hz. Electric motor: Single phase, bi-directional. Absorbed power: 650W. Current drawn: 3.5A. Thrust/traction force: 0-110daN(Z16). Motor speed: 1400 rpm. Motor winding thermal cutout: 130degree Celsius Clutch: two-disc, oil both Reduction ratio: 1:30 Ambient temperature range -20degree Celsius to +55degree Celsius. Weight with oil: 14.5 kg. Oil type: FAAC oil XD 220 Gate speed: 9.5m/min. (Z16). Maximum gate weight 1800 kg. Housing protection IP 45.
To purchase or request for a quotation on the above system please email: sales@securitex.com.sg