Elsema FMT-302(NL) OPERATING MANUAL
27MHz 2-Channel Remote Control Digital Transmitter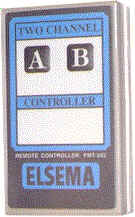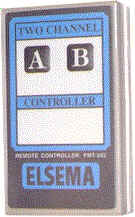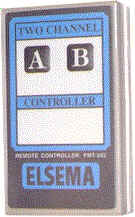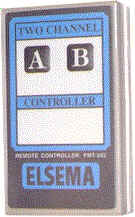 The FMT-302(NL) is an updated model of the FMT-202(NL). The FMT-302(NL) has an improved transmission, which complies with American, Canadian and European radio frequency regulations. The FMT-302(NL) is part of a two-channel remote control system. A few of its applications could be as:
a personal security alarm activator for home safety or cash carrying businesses e.g. banks, shops service stations, etc.
a calling device for the elderly or handicapped
It is housed in an attractive, high impact resistant gray ABS plastic case.
Pressing the designated switch on the front positively activates the transmitter. Activation is confirmed by the sound of its built-in buzzer.
The highest possible standard of performance is achieved by employing a crystal-controlled, frequency modulated radio signal operating in the 27MHz band. This is enhanced by a specially dedicated custom-built integrated circuit. The latest "state of the art" surface-mount technology (SMT) provides maximum reliability.
A 10-way code switch (part of the digital encoding system) is used. This enables the user to select any one of the 1024 available codes and thus ensure highest security against false operations. The eleventh switch is changed by pressing either channel A or B. The twelfth switch is on if a wire link is next to the code switch, if it is removed the twelfth switch is off. This is displayed on the back of the battery cover of the FMT-302(NL). The code can be readily changed at any time.
An operating distance (in conjunction with our FMR series receivers) of 500 meters is possible.
The operating distance depends upon the receiver antenna and location. An independent test revealed the following ranges:
| | | |
| --- | --- | --- |
| Range (Meters) | Receiver Antenna | Receiver Type |
| 100 | 250 mm Long Wire | FMR-… |
| 400 | 1000 mm Long Wire | FMR-… |
| >500 | ANT27M | FMR-… |
Range tests was done in an open area test site with line-of-sight operation and the receiver antenna wire was fixed vertically, away from any metal objects.
When operating near its range limit, some improvements may be obtained by pointing the transmitter towards the receiver. This is due to its slightly directional properties.
The case of the transmitter has been designed to accept Elsema leather covers. The leather covers have a belt clip.
The transmitter is also available without its front label (No Label, FMT-302NL).
Compatible Receivers:
To download detail of this equipment please click here (pdf file size 69KB)
To purchase or request for a quotation on the above system please e-mail.
For all other gate equipment please click here