Securitex EBELCO Intercom System (Model-BP121)
The EBELCO audio intercom system is a very rugged and outdoor intercom system that can withstand the most adverse weather condition. It is most suitable to be use as a replacement for door bell to intercom. Very suitable to be use in most residential house example, Terrace / Semi-detach and even bungalow houses. This system can easily replace most existing intercom system as it use only 2 wires from the door station to the handset. To make the installation even easier the entire system is powered by 4 AA batteries.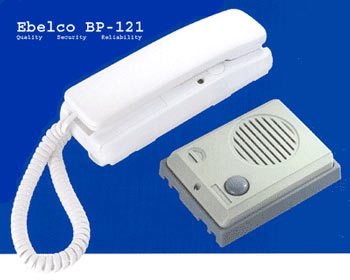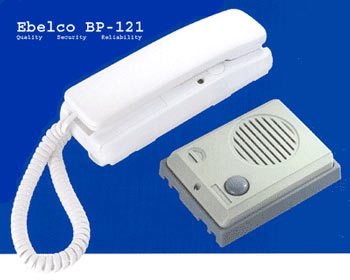 Features include:
Door bell, Intercom, Door or auto gate opener, Handset LED indicator, Adjust chime, Volume control and weatherproof outdoor unit.
Operation:
At door station (calling): Momentarily depress bell button then talk and listen hands free.
At Inside Station (receiving): When 2 tone chime sounds, pick up handset and talk just as on a standard telephone. Momentarily depress door opener to activate the door lock or outside gate. End conversation just securely replace handset on the cradle.
Specifications:
Power source: DC 6V (LR 6-AA). Power supply: Batteries only, 4 pieces X 1.5 V (6V). Consumption: In use 30mA, Chime signal 150mA. Signal sound: Electronic chime call sound. Wiring: 2 wires installation. Communication range: Distance 300metres-diameter 0.65mm cable gauge.

Note:


For overseas customer once you place an order, we will informed you of the delivery charges.

To download product catalogue click here

To purchase e-mail sales@securitex.com.sg