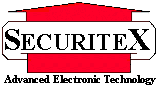 Frequently Asked Questions


Thank you for visiting the current Securitex Alarm System FAQ. We have more Home Security System or Question about intercom system please Click here
---
How does a security system work?

The control panel contains the "brain" of the system. Various sensors connect to the control panel from locations around the home and factory. When a sensor detects an abnormal condition, it send a signals to the control panel. The control panel sends the signals to trigger a siren, it also signal the central station, a 24-hour monitoring facility. To alert the people inside the home. Some system is able to page the owner at the same time.

Is it difficult to install a security system?

Most system is relatively easy to install. Programming the system to function according to your lifestyle is the hard part. (At Securitex Electronic Systems Engineering or SecureCiti International our system technical department will handles the hard part by pre-programming the system before delivering the system to you and we also deliver any changes remotely through the telephone lines)

What are the sensors that is required in the system?

Sensors use in the system include magnetic contacts and Glass-break sensors that are located at vulnerable entry points such as doors and windows. Interior detectors such as Passive Infrared Detectors (motion sensors), when install in the interior detects motion through body heat detect activity inside your home.

What is a Central Monitoring station?

A central monitoring station is a facility where all your alarm signal are send through the telephone line to the central station, a 24-hour, high security facility. With Alarmnet radio, signals can also be sent by radio transmission.

What does the keypad do?

Keypad is used operate your system by entering your security code at the keypad. Keypads are normally located near entrance doors. Keypads also provide audible and visual system status for the user.

Do I have to be licensed to install my system?

NO. Many country allow homeowners to install their own system without a licensing requirement. However from time to time law may change as such please check with your local community for the latest information.

How does the system connect to the phone lines?

The security system we provide is Telecommunication Authority of Singapore Approved Type, as such you can connect them to your existing telephone line. All our system comes with a very comprehensive manual to guide you step by step how to install the system to the telephone line. You can install the jack yourself with our instruction, or have your our technical personnel install for you.

Should a Central Station monitor my system?

We strongly recommend that a Central Station monitor your security system. In the event of an alarm or trouble condition, our Central Station can contact the police or fire department or even a relative living close by.

What happens if my phone line is cut or is out of service?

Many alarm companies fail to provide adequate information regarding phone line cuts. There are various methods of delivering your vital emergency information in the event of an alarm. We strongly recommends the use of Links1000â(Cellular Alarm Transmitter) , a backup radio system that is easy to install and will work virtually anywhere in the United States, Canada and even Singapore. Links1000â (Cellular Alarm Transmitter) requires an additional monitoring fee and can be ordered from http://www.securitex.com.sg or http://www.secureciti.com

What if my electricity service is down?

The system we offer has a backup battery system as standard package. Depending on the number of devices installed, the backup battery will sound the alarm and dial the Central station in the event of an alarm. We/You can even monitor your home for a/c failure and restore.

After the installation of the system do I have to change the way I live in my home?

No, your system can be programmed to suit your lifestyle. Delays on entry and exit doors can be structured around the way you use your home. Our consultants will help you decide on the protection that is suitable for you without compromising on your security. Should there be changes in the future, we can remotely configure your system to your changing needs.

How long do the system back-up batteries last?

The backup battery in the control panel should be changed every two years (we will monitor the batteries' condition at the Central Station). Wireless transmitter batteries last five to seven years and are lithium batteries that can be purchased in almost any drug store. Our systems monitor the status of the batteries and should a battery become weak, our staff will notify you of the exact location of the transmitter and how to replace it. The replacement of the batteries will be as easy as changing the battery in your TV remote control.

Is there any special wiring needed in the system installation?

There is different wire for different applications. Our consultants will be glad to detail the recommended wiring for each application. Generally, 22 gauge, 4 conductor is used for keypads and motion detectors. 20-gauge zip wire is used for window and door switches.

How secure is my personal information?

At SecureCiti International and Securitex your security is our business. The information gathered on our members is held in the strictest confidence. All information is password protected. Information are never sold or distributed outside our company or its affiliates.

How can you offer the systems that the Professional alarm companies install?

Our systems are manufactured by Digital Security Controls Ltd. SG Security Communications. Kantech and SafeLink, the world's largest manufacturer of security devices in the world. Although some basic features may vary, the main system features and the accessory devices (motion detectors, contacts, sirens, glass-break detectors) are exactly the same.

Do I own my system?

YES, we sell the systems directly to you. Many companies have a hidden "lease" and charge you a fee for installation. We has a "No strings attached" policy. The systems you purchase is yours to keep, you choose the protection and monitoring that's right for you.

Is my system connected to the Police Department? Fire Department?

No, the majority of security systems send their emergency signals to a Central Monitoring Station. A Central Station is manned twenty-four hours a day and is the facility that acts as the link between the protected premise and the authorities.

Can I use a motion detector if I have pet dog or cat?

Due to the recent technological improvements with intrusion detection system, this have led to the development of "Pet-immune" or "Pet-friendly" motion detectors. These detectors will actually ignore up to an 80lb dog or five cats!

Is my system on all the time?

Your smoke detectors, panic buttons and tamper switches are "on" all the time. You have the ability to arm and disarm your system with the use of a keypad, remote key fob device or even through a touch-tone phone.

How much does a system cost?

Depend on your system configuration a basic home protection alarm system can cost as low as $400 to $500. The average full system equipment cost is around $800 from Securitex Electronic Systems Engineering and SecureCiti International.

Is there a charge for programming the system?

No, all of our systems are preprogrammed to your specifications. Remote programming can be delivered over your phone lines. But in the event that additional programming is needed on site a very normal fee will be charge which is on a case by case basis.

How much noise does the system make?

Each keypad produce a beeping sound when operated on, which is to ensure all input is confirmed. External sirens produce about 110dB, one siren per 3000 square feet is recommended.

What is false alarm?

False alarm are trigger Accidentally or when the system is not stable. These alarms are annoying and also cause unnecessary noise pollution. However Alarm system sold by us will not have this problem because we ensure that the system is trouble free before it is exported out. Furthermore we will educate all our customer on the use of their system and with proper design and instruction, your DSC alarm system should be false alarm free.

Is there an automatic shutoff for the siren?

Sirens can be programmed to sound for two or more minute increments. Most ordinances required the outside siren to shutdown after 30 minutes. Our systems will sound for a specified period of time (depending on your setting); the time period is per occurrence and will resound if another violation is detected.

If there is a break-in attempt will the system re-arm?

During an attempted break-in, the system will go into alarm condition. The system remains armed until an authorized user enter in their code to disarm the system. If there is a subsequent detection, the system will go into alarm again.

Can I use the system when I go to bed at night?

YES. The "Stay" and "Instant" modes give you the freedom of arming the perimeter of your system (the doors and windows), while ignoring the interior protection (motion detectors and interior doors).

How do I test my security system?

Your system can be programmed for automatic test on a daily, weekly or monthly schedule. You can manually test your system by pressing in your code and the test button. Your sounder will sound for 2 seconds, the battery and a/c connection will be tested and test signals will be sent to the Central Station.

What kind of things can my system "detect"?

With door, window switches and motion detectors install, your system can detect intrusion when the system is active. Smoke and heat detectors can detect a fire. Our systems also have the ability (with the proper device) to detect water, low temperature. We can even detect whether your system has been activated or deactivated by a particular user.

What is the chime mode?

The chime mode gives you the ability to know when a door or window is opened in the disarm state. This is widely used by families with small children that need to know the whereabouts of their children around the home.

What is a system "user code"?

Each person using the system can be issued a four-digit code that can arm and disarm the system. The level of system you install dictates the number of users on a system. Each user code number can be changed locally through the keypad or through remote programming. We/You can identify who armed or disarmed the system by user.

I want someone to be able to arm my system without giving him or her my code?

The Quick-Arm feature is your answer. When programmed, you can use the "#" + Function buttons to arm in the Away, Stay or Instant modes.

What happens if I forget my user code?

Your security information is pass code protected. If you forget your user code, we can re-establish a new one or remind you of your old one as long as you have your pass code.

What if I forget to turn my system on?

There's an option to add a Escort voice prompt module to your system (Escort 5580), which will enable you to arm and disarm your system with any touch-tone phone on or off premise. In an emergency we can even arm your system remotely from our programming center for you if authorized.

What if I'm dissatisfied with your service?

We will make every effort to keep our customers happy. All our system comes with a 12 months warranty and we also offer a ninety day full refund policy, satisfaction guaranteed.

Can I get an insurance discount?

YES. The amount of homeowner's insurance discount depends on your carrier.

Can I be notified when my system is armed or disarmed?

DSC alarm systems have the ability to call a pager and notify you when a particular user arms or disarms the system. This feature is a standard feature in all our system which need to be enable. . You also have the ability of receiving Opening / Closing reports on a monthly basis for an additional monitoring fee.

Are these "Free Security System" offers some kind of scam?

Not necessarily, many companies have underwritten the cost of the equipment in order to have you sign a long monitoring contract at $24.95 or higher. BEWARE: many companies advertise an "Installation fee" and lease you the system or they use the "Free System" offer as a tool to "up-sell" you on additional protection. Our program is straightforward. We help you along the process from installation to monitoring – no strings attached.

Can my system call a pager?

Our systems have the ability to call a pager. Basically when the Central Station monitors the system, the system will dial a pager after information is sent to the Central Station. You will receive the system ID number, the user number and alarm event (alarm, trouble, open or close)

I have a parent, who is homebound, how can your system help him?

When most people think of security they think of burglary or intrusion. These are valid concerns, but when we consider the needs of the homebound, the ability to summon help in the event of an emergency becomes a daily concern. Our Senior Care System can provide your loved one with an emergency pendant that is fully supervised for system check-in and battery condition. The system can summon the Central Station that in turn can call you, or any authorized response agency.

What is Two-way voice?

This is a system option that gives the Central Station the ability to speak directly to the person in the home to verify an alarm condition. This verification method is handy with any home bound or potentially incapacitated person. A microphone / speaker unit is placed in the home and is activated only when the system goes into an alarm condition.

What is the range of the wireless transmitters?

The wireless door/ window transmitters have a distance rating of one mile "open air". Depending on the structure of the protected home, the range will be between 500 ft. and 1000 ft.

How often can I change my Central Station pass code?

As often as you wish. You can even have pass code for each user of your system.

Do I need a permit for my security system?

No not in Singapore. However for other country please check with your local police department for the regulations in your area.

What if we decide to move after we install our system?

Members connected to our Central Station will receive free programming and installation assistance.

I have a battery-operated smoke detector, why do I need a monitored detector?

Battery-operated detectors have two problems. First, they are rarely connected to other detectors, remote warning devices, or a central monitoring station. If they are located outside a bedroom, a sound sleeper may not hear them, especially if the bedroom door is closed or just partially open. If detectors are located on a different level of a residence that the bedroom level, then the likelihood they will wake up sleepers diminishes further. A second problem with batter operated detectors is their batteries – if they are not periodically replaced, detectors will not work!

I have an AC powered Detector why do I need a monitored detector?

Many AC powered detectors are not connected to other detectors or remote warning devices. Even those that are only connected to other devices can provide a local warning of fire. If no one is home, a fire can develop without anyone taking action to protect valuable property.

Do I have enough smoke detectors?

The National Fire Protection Association's 1993 "National fire Alarm Code" specifies the following for adequate household protection: " Smoke detectors shall be installed outside of each separate sleeping area in the immediate vicinity of the bedrooms and on each additional story of the family living unit, including basements and excluding crawl spaces and unfinished attic. In new construction, a smoke detector also shall be installed in each sleeping room."

Should I use an Ionization or Photoelectric smoke detector?

Either technology can detect a fast flaming or slow smoldering fire, but response times can vary. Here are the characteristics of each:

Ionization- Ionization detectors respond well to fast flaming fires, such as paper.

Photoelectric- Photoelectric detectors are well suited to detecting slow smoldering fires, which are often generated in households. For additional protection, photoelectric detectors are available with an internal heat sensor that triggers an alarm when the temperature at the detector reaches 135° F.

How much time will it take to install the security system?

You should be able to install the control panel and final connections within 120 minutes. The keypad should take another 30 minutes, the siren about ten minutes, motion detectors fifteen and each door and window about thirty minutes. Your total installation time will vary depending on wire runs and whether you take advantage of wireless detectors (big labor savor).

Do I have to be licensed to install my system?

Many municipalities allow homeowners to install their own system without a licensing requirement. Check with your local community for the latest information.

How does the system connect to the phone lines?

The security system has the ability to separate your home phones from the telephone companies' incoming line. This is accomplished by installing a RJ31X jack. You can install the jack yourself with our instruction, or have your local telephone company install it.

Should a Central Station monitor my system?

We strongly recommend that a Central Station monitor your security system. In the event of an alarm or trouble condition, our Central Station can contact the police or fire department, a relative living close by or even the plumber!

What are points of protection? What are Zones?

Points of protection are individual devices that detect an opening or condition. Zones are groups of protection points. For example, entry/exit protection points maybe grouped into a single zone on a system. Generally the more zones = more sophisticated control panel.


Note: This site was updated and published on 01 August 2006 We will be further update and improved this site when new material and product arrived.
© 1996 - 2014 Securitex Electronic Systems Engineering. All rights reserved
SecureCiti International is a subsidiary of Securitex Electronic Systems Engineering
Block 9010 Tampines St 93 #04-145 Tampines Industrial Park A Singapore 528844 Tel: +65 67852171 Fax: +65-65850107 Reg. No.: 52838264X