EBELCO
Extreme Quality
            Extreme

Security

          Extreme

Reliability
---
EBELCO Electromagnetic Lock.
The magnetic lock manufactured by EBELCO consists of a magnet mounted onto door jamb and a steel plate attached to the top of the door by a special anti vandal bolt and nut. The door will be strongly bonded when the magnet is energized and holding the steel plate. Instant release is possible when power supply is cut off making it most ideal in emergency escape situations.
<![if !supportEmptyParas]> <![endif]>
Low power consumption and maintenance free.
Considered as most durable and with low power consumption, it is widely used for exit and entry control applications with no moving parts and little maintenance required. The magnetic lock will at all times provide a failsafe operation.
<![if !supportEmptyParas]> <![endif]>
Entry and Exit Application.
The electromagnetic lock come in variety of model to suit various exit and entry applications. Mounting brackets formed an integral part in the installation of magnetic lock to both inward swing and outward swing doors.
Type of doors that can use the Electromagnetic Lock
Wooden door. Metal Door. PVC door. Automatic Sliding Door. Metal / Wooden swing gate. Side Pedestrian Gate. Glass Door with Aluminum Frame or Stainless Steel Frame etc.
Machine Guarding Application
In fabrication factories and automation industries where cutting, rotation, stamping machine etc are in operation, this machine can have enclosure we call guarding and this guarding can use the electromagnetic lock to secured. This prevent entry into this machine location when machine in operation.
Drawers and cabinet electromagnetic lock
When drawers, cabinets and lockers need to be secured, we do have miniature electromagnetic lock that can be use to secured this are.
Cold Room. Clean Room and Interlocking door using Electromagnetic Lock.
Electromagnetic Locks can be use in these area where the controls can be integrated to the existing facilities access control system and interlocking controllers.
Electromagnetic Lock (EM-LOCK) typical installation on frameless glass door.
During installation of the EM-lock to frameless glass door. care must be taken to ensure the right bracket is chosen and also the tolerance between the top of the glass door and the top glass panel or the wall above is within the allowable clearance. The figure 1 below show a typical installation method.
FIGURE 1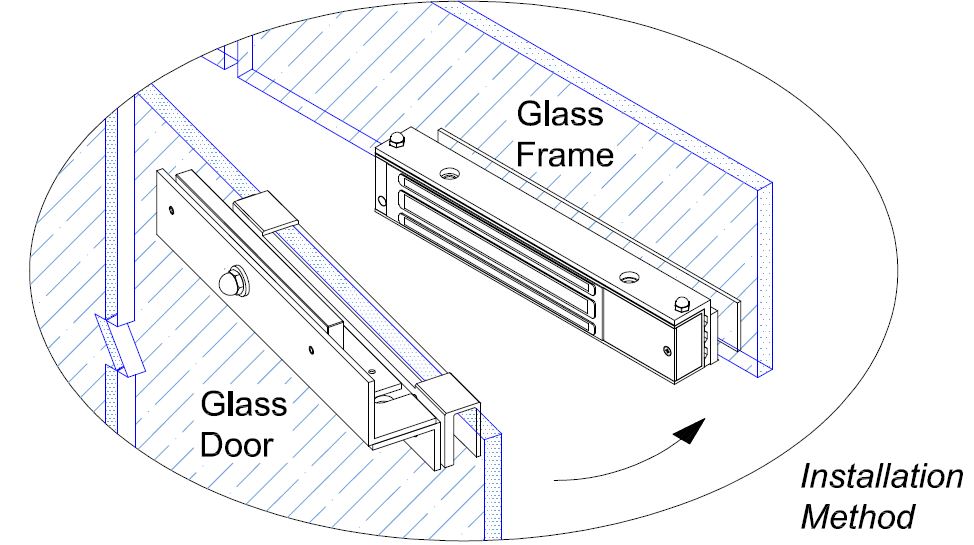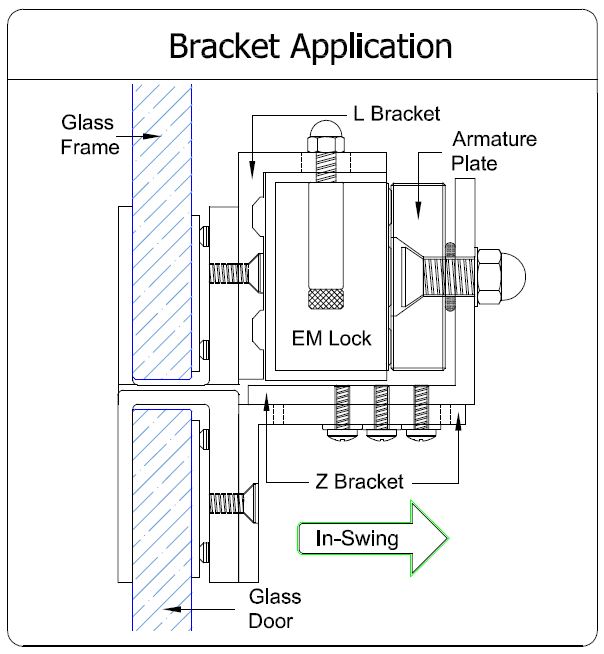 DSU BRACKET INSTALL ON FRAMELESS GLASS DOOR DSU BRACKET LAYOUT ON THE GLASS DOOR
POWER SUPPLY UNIT DSU EM-LOCK BRACKET ROGER CARD & PIN READER WITH CONTROLLER
Standard, test and approval

<![if !supportEmptyParas]> <![endif]>
FIRE DOOR HOLDER (FDH).
Fire Door Holder is installed to hold the fire door open during normal operation. During fire alarm activation, the Fire Indicator Board will sent a signal to the Fire Door Holder Relay to activate and de-energized the magnet to release the door close. FDH are always install together with a door closer to ensure once the FDH is de-energised the door will start closing.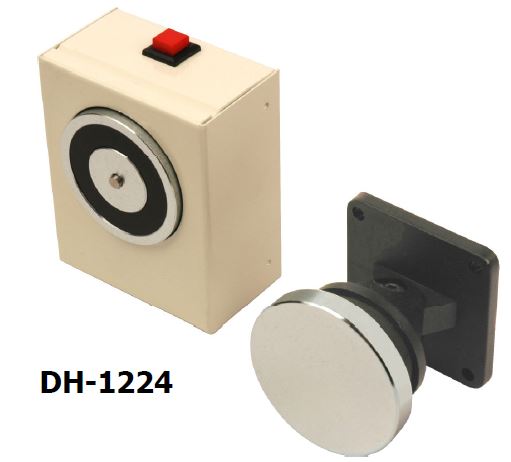 TYPES OF EM LOCKS AND BRACKET
The EBELCO 300Dand 600D and 1200D EM-Lock are 2 units EM-Lock constructed together for use on double leaves door.

300S EM. Lock
300 LED EM-lock
600D LED EM Lock
1200D EM Lock
600 LED Lock
600S EM Lock
600S EM Lock Reverse
Door Holder DH1224
Cabinet EM-lock EM100S
The EBELCO 1200 and 1500 lbs EM-Lock are mostly use on area where Extreme Security are Call for.
1500 LED EM Lock
1500S EM Lock
1200S EM Lock
1200 LED EM Lock
The EBELCO SS400. SS800 and SS1200 Stainless Steel Version of the Electromagnetic Lock are use on outdoor application and in marine environment. Extremely reliable and robust construction
SS-400 Stainless Steel EM lock
SS-800 Stainless Steel EM lock
SS-1200 Stainless Steel EM lock
Mortice-600 EM Lock
L1 Bracket
ZL-Bracket
U1-Bracket
LS-Bracket
Z L Bracket Cover (EM600)
DSU 600 Bracket
DSU-Bracket
DSU 300 Bracket
Z L 300 Bracket
Z SS 1200 Bracket
DB-100 Drop bolt
DB-300 Drop bolt
Door Access Application
Industrial Application

EBELCO

APPLICATION

EBELCO EM Lock is been use on Glass. Wooden, metal doors, gate and automatic windows and roller shutters

EBELCO EM lock is also been use on machine that need to lock machine guards.

Electromagnetic Lock

Robust and reliable

EBELCO EM lock can also be use on Marine and Aviation environment

Securitex
SPECIFICATION
| | | | | | | | |
| --- | --- | --- | --- | --- | --- | --- | --- |
| Model | Input voltage | Current draw | Holding force | Body Dimension (mm) | Mounting type | Armature size (mm) | Built-in |
| 300-S | 12VDC /24VDC | 300mA/150mA | 300 lbs | L170 X W35 X T21 | Surface | L130 X W33 X T11 | NIL |
| 600-S | 12VDC /24VDC | 480mA/240mA | 600 lbs | L250 X W42 X T25 | Surface | L180 X W38 X T11 | Terminal Block, Jumper selector |
| 600-LED | 12VDC /24VDC | 480mA/240mA | 600 lbs | L250 X W42 X T25 | Surface | L180 X W38 X T11 | Magnetic bond sensor. LED. NC/NO. Jumper selector |
| Mortice-600 | 12VDC /24VDC | 480mA/240mA | 600 lbs | L230 X W42 X T26 | Concealed | L180 X W38 X T11 | Reed Switch |
| 1200S | 12VDC /24VDC | 420mA/210mA | 1200 lbs | L266 X W67 X T39 | Surface | L185 X W61 X T16.5 | Terminal Block, Jumper selector |
| 1200LED | 12VDC /24VDC | 420mA/210mA | 1200 lbs | L266 X W67 X T39 | Surface | L185 X W61 X T16.5 | Magnetic bond sensor. LED. NC/NO. Jumper selector |