---
Securitex Kocom Intercom System Division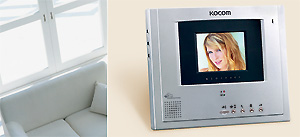 ---
Kocom Intercom phone and Video Door phone system
The following product are manufactured by Kocom. Kocom range of extremely high quality intercom system and IT product will serve the industries into the next century. The system are highly reliable and extremely stable operation. The sleek design and robust architecture makes Kocom intercom system one of the best system ever develop by a Korean company.
Kocom Achievements Management Status
KOCOM, is a listed company in KOSDAQ market with top-level financial stability and market shear in business
KOCOM develops and manufactures technology-intensive products for digital imaging and communication network and exports them worldwide.

For single item of videophone, KOCOM is the world-largest specialized manufacturer.
In 1994, as a part of business diversification project, KOCOM successfully developed colored digital CCTV second in the world (first in Korea).
Furthermore, the company succeeded to digital steel camera, colored videophone and Home Manager, the terminal for home network (cyber apartment system) and supplied them for Japanese sellers including Nikon (digital steel camera).
Investment by Schroder of England proved the company's financial reliability as well as growth potential.
Kocom R&D facilities design and built its own system.
With the confidence of making meaningful products for humankind and introducing high-tech R&B system. Kocom itself has managed its own research institute since 1992. This institute becomes main capacity of Kocom by investing large amount of money in researched and developing new high technology system and suit almost all industries.
For more home security system, intercom system, auto-gate and CCTV etc please Click here
---
The image below shows the various type of Kocom intercom system equipment. Detail specification and catalogue can be downloaded directly by clicking on the link. All system image, catalogue, leaflet, manual and literature are the property of Kocom and is courtesy from Kocom.
---
---
@ 1997 to 2018
Supply and marketed by: Securitex Electronic Systems Engineering. http://www.securitex.com.sg
Block 9010 Tampines St 93 #04-145 Tampines Industrial Park A Singapore 528844 Tel: +65 67852171 Fax: +65 65850107
---